Husarion's RoboCORE Offers Easy and Affordable Way for Anyone to Construct a DIY Robot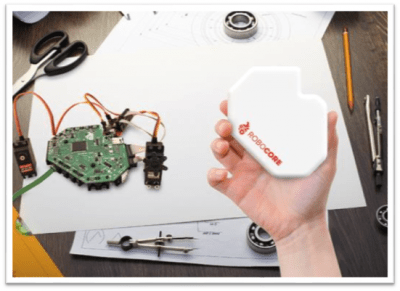 Krakow, Poland – February 11, 2015 – Husarion, a Poland-based technology start-up, today announced it is seeking funding for RoboCORE, a device that acts as the "heart" of the DIY robot. Husarion's mission is to bring robotics into the mainstream consumer market and RoboCORE offers the ultimate solution that allow robotics enthusiasts and companies to easily build their own robots, without the need for high-level programming or engineering skills.
Husarion founders are looking to raise $50,000 to bring RoboCORE to market. Over the next 30 days, investors may support and track Husarion's campaign at the official project page on Kickstarter. 
The market for consumer and office robots is surging. A recent report from Business Insider Intelligence found that the multibillion-dollar global market for robotics, long dominated by industrial and logistics uses, has begun to see a shift toward new applications. According to BI, There will be a $1.5 billion market for consumer and business robots by 2019. BI also projects the market for consumer and office robots will grow at a CAGR of 17 percent between 2014 and 2019, seven times faster than the market for manufacturing robots.
"The design and production of robot components is so costly that robots are currently used mainly for military and industrial purposes," said Dominik Nowak, CEO at Husarion. "There's been little or no opportunity for robotics to become widespread. Our mission is to make out-of-the-box modules available so that anyone can create an inexpensive robot with advanced capabilities."
RoboCORE is a combination of software and hardware, packaged in a sleek, heart-shaped device. Unlike other robotics systems, RoboCORE allows users to control or code from anywhere in the world, as well as stream both audio and video. RoboCORE's rich peripherals, high-performance CPU and intuitive software enable robot makers to create without limits.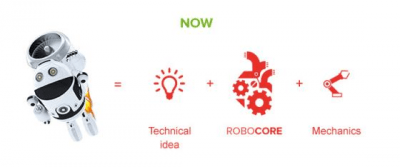 Building simple telepresence robots with a RoboCORE module is easy. Consumers can simply use old smartphones and tablets to control the robot by connecting them to an app, and then connect the construction with a cloud app, using a Wi-Fi or mobile (3G, LTE) network. The cloud-based RoboCORE app is a hub for managing all robots. Users can log in through a web browser, program and control the robot, and even share their project with friends.
RoboCORE will be useful for a variety of business settings and in solving real human problems. The module is also ideal for students and hobbyists, who will now be able to create and design complicated constructions that were previously impossible to build inexpensively, or without advanced programming skills. In addition, RoboCORE is compatible with any mechanics system, including pieces from popular LEGO® MINDSTORMS® sets.
The small (115×125 mm for the basic version, 82×82 mm for mini) device conceals a number of components with high scaling capabilities. Internal components include the Cortex-M4 core microcontroller, Intel Edison miniature computer with Wi-Fi and Bluetooth 4.0 connectivity, DC engine ports with encoders, sensor ports, extension modules (for instance, for servomechanisms), a slot for microSD cards, and a microUSB socket. On Kickstarter, Husarion is also presenting the RoboCORE-mini, an even smaller module with basic features for beginners, as well as extensions.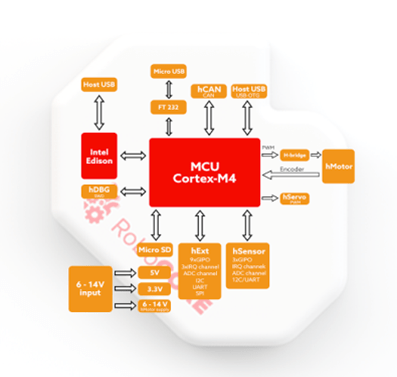 "We believe that today's consumer robotics is at the same development stage as the computer industry in the late 1970's. Not many people then appreciated young electronics enthusiasts. Now, it's similar with robot makers," says Radoslaw Jarema, CTO of Husarion. "We've created RoboCORE because we know that the world is on the eve of another technological revolution. The age of the personal computer has been here for a while—and now it's time for personal robots. We hope that the Kickstarter community will receive our project well and support it."