OpenROV launches Trident, an all-new, low-cost underwater consumer drone. Part of an ongoing mission to democratize ocean exploration, this model is simple enough to "plug in and go," and capable enough to use for scientific research and serious exploration. Orders can be placed on Kickstarter starting today, September 14, 2015.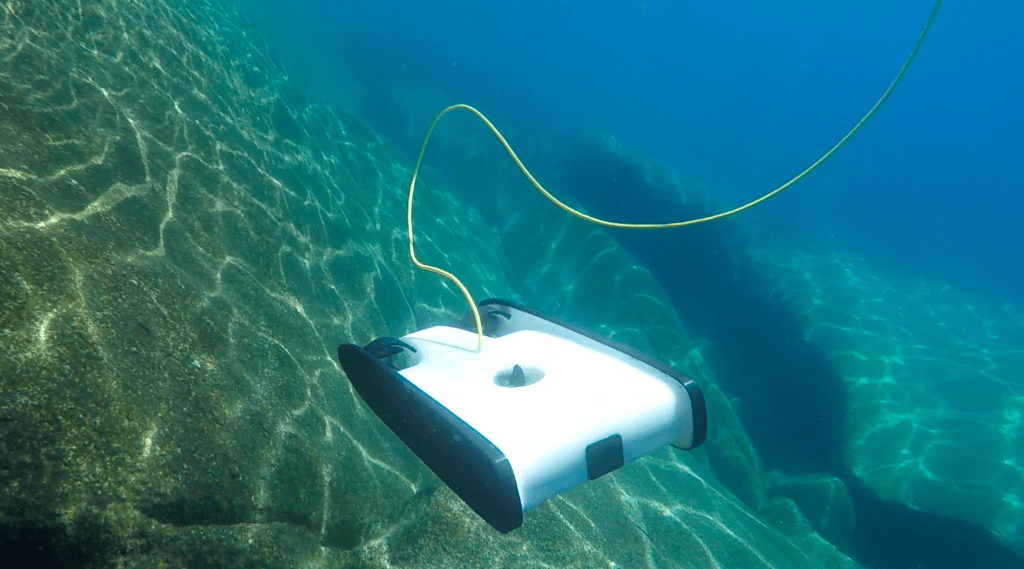 OpenROV has already established a rich community of makers, explorers, and ocean enthusiasts with its popular OpenROV kits. The company began in 2012 when co-founders Eric Stackpole and David Lang came up with the design for an expedition to find gold lost in an underwater cave. Noticing there weren't any affordable underwater ROVs on the market, they realized that they were tapping into a burgeoning trend that enabled citizen explorers and scientists.

Writes David Lang about this movement towards accessible research tools, "The cost of asking interesting questions and then sharing those results with the wider world has been drastically reduced. New discoveries can come from anyone, and from anywhere."

The first OpenROV Kickstarter project was a big success – making almost $100,000 more than their $20,000 goal. Since then they have grown significantly, shipping over 1,700 OpenROVs to more than 32 countries around the world.

The Trident underwater drone weighs less than 3kg, and is small enough to fit in a backpack or underneath an airplane seat. It can dive to 100m depth. It's hydrodynamic shape allows it to move both quickly and precisely. Trident sends live video back to the surface by way of a thin, neutrally buoyant tether, and is controlled by a laptop, smartphone or tablet at the surface.

Potential applications for Trident are numerous, including: marine biology projects, dive site surveys, boat inspections, and underwater exploration.

Trident's unique shape and design make it ideal for projects such as 3D mapping that require it to move along transects – long straight lines for surveying large areas. The HD video stream allows the pilot to view the underwater world in a way that has never before been possible, and Trident's ease of operation makes flying the robot fun and exciting for anyone – regardless of technical skill. The OpenROV team has spent the past three years designing, testing, and developing Trident with the end user in mind. Expected delivery is November 2016.

At his TEDx talk earlier this year, co-founder Eric Stackpole remarked, "I like to picture a world where hundreds of thousands of people have access to these kinds of tools for exploration. What happens when you put this kind of ability to explore the world in the hands of everybody?"

Trident is a giant step in that direction.
More information: http://openrov.com