TORONTO, Jan. 10, 2023 /CNW/ – Spin Master Corp. ("Spin Master") (TSX: TOY), a leading global children's entertainment company, today announced it has reached an agreement to acquire the HEXBUG brand of toys from award-winning toy company, Innovation First International, Inc.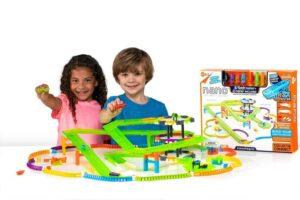 First entering the market in 2007, HEXBUG products feature robotic technology with ingenious movement inspired by nature, giving kids a whimsical and imaginative play experience. HEXBUG products appeal to kids' innate love for remote control and fast-moving creatures that exhibit fascinating life-like behavior. With over 100 different toys that range from buildable playsets to battling robots, HEXBUG products bring fun and excitement to robotics and foster children's creativity to fuel hours of imaginative playtime.
"What excites us so much about HEXBUG is that the inventors have mastered both the science and the art of bringing creatures to life through technology, to deliver truly magical play experiences," said Anton Rabie, Spin Master's Co-Founder. "With this acquisition, Spin Master will combine it's innovation, global reach and diverse portfolio with HEXBUG's innovative excellence to surprise and inspire kids in new ways."
"At Spin Master we are focused on reimagining everyday play and are always looking for opportunities to strengthen our innovative portfolio through meaningful acquisitions," said Max Rangel, Spin Master's Global President & CEO. "HEXBUG is an evergreen brand with a strong foothold within a niche category, opening an opportunity for Spin Master to own and ultimately grow the popular robotic range's reach through our expanded global footprint while also leveraging this technology across our broader toy offering."
"Spin Master is the business that can really take our years of foundational tech toy innovation to the next level and gain an even greater awareness for the brand here at home and around the world," said Tony Norman, CEO at Innovation First International, Inc.
Expected to close in February 2023, the acquisition of HEXBUG marks Spin Master's 28th acquisition since the company was founded in 1994 and the 18th since its initial public offering in 2015.
About Spin Master
Spin Master Corp. (TSX: TOY) is a leading global children's entertainment company, creating exceptional play experiences through its three creative centres: Toys, Entertainment and Digital Games. With distribution in over 100 countries, Spin Master is best known for award-winning brands PAW Patrol®, Bakugan®, Kinetic Sand®, Air Hogs®, Hatchimals®, Rubik's Cube® and GUND®, and is the global toy licensee for other popular properties. Spin Master Entertainment creates and produces compelling multiplatform content, through its in-house studio and partnerships with outside creators, including the preschool franchise PAW Patrol and numerous other original shows, short-form series and feature films. The Company has an established presence in digital games, anchored by the Toca Boca® and Sago Mini® brands, offering open-ended and creative game and educational play in digital environments. Through Spin Master Ventures, the Company makes minority investments globally in emerging companies and start-ups. With over 30 offices in close to 20 countries, Spin Master employs more than 2,000 team members globally. For more information visit spinmaster.com or follow-on Instagram, Facebook and Twitter @spinmaster.

About HEXBUG
HEXBUG products first entered the toy industry in 2007, with the goal of giving children a positive experience with robotics at a young age. At first, people were drawn to the realistic bug-like attributes of its micro robotic creatures. Now, the brand has over 100 different toys that range from buildable playsets to battling robots. HEXBUG products continue to spark imaginations with their innovative technology loved by kids and adults of all ages.

About Innovation First International
HEXBUG, VEX Robotics, and RackSolutions are subsidiaries of Innovation First International, a privately held corporation. The company is founded on the belief that implementing innovation early in the design process is necessary to create simple, elegant products and solutions. Innovation First began producing electronics for unmanned mobile ground robots and is now a global leader in the technology, robotics, and STEM education industries.