Launched this morning on Kickstarter, Little Robot Friends (LRF) are an exciting addition to any modern learning environment. Cute and programmable, these robotic characters serve as a novel entry-point for learning code and electronics along with crucial STEM/STEAM skills.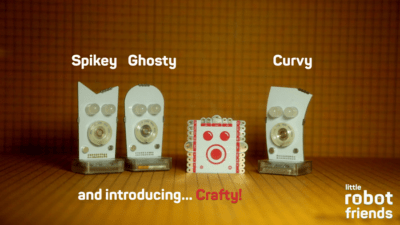 Geared towards children aged 8 and up, LRF's are available in 4 models – Spikey, Curvy,
Ghosty and the all new Crafty. Each model features a distinctly shaped body, various
sensing modules and a unique, customizable personality. Spikey, Curvy and Ghosty are
available pre-assembled or as DIY kits for those looking to build their soldering skills. Crafty comes as a kit with all the same components as the other robots, but those components are modular and reusable. This provides an endless combination of interaction possibilities for modelling STEAM topics. Little Robot Friends characters evolve organically through play or can be customizable through coding.
Children can transform Crafty into custom creations with any conductive material such as
alligator clips, wire or using conductive thread or yarn. The kit opens up the potential for
children to create an LRF in a myriad of materials including paper craft, felt or 3D-printed
objects. Little Robot Friends bridges the gap between the technical and non-technical skills in a playful way by utilizing soft skills such as teamwork, collaboration and critical thinking.
Little Robot Friends purpose extends beyond physical play. Students and instructors can
also program LRF across several platforms, each suitable for a different skill level. The LRF App introduces programming concepts without the need for coding. Through the app,
children can upload tricks to their robot, customize its personality, teach it to sing robot
songs and play games. In the Little Robot Friends visual programming language, beginner
coders can use drag-and-drop elements to create and run functional programs for the
robot. As students become more confident in their programming, they can move on to
using the LRF library for Arduino. Each of these platforms introduce children to computer
programming in a creative, exploratory way and help them build a solid foundation in
computational thinking. This will put them at a huge advantage to becoming effective
problem solvers in a increasingly technology-dependent world.
Integrating computer literacy into the curriculum is a vital issue in modern education. Little
Robot Friends provides illustrative educational materials meant for both classroom learning and individual exploration. Instructors are aided by the easy-to-follow lessons plans that support core curricular items such as math, science and language arts. The robots friendly persona and tactile design encourages experiential learning, either independently or in groups. Little Robot Friends have been designed to facilitate learning across subjects and disciples to make technology more accessible and fun.
"We feel the best way to teach technology is to make learning casual and rewarding" says
Mark Argo, founder and principal technologist at Aesthetec Studio. "Developing characters
and stories is common across all ages and cultures. With Little Robot Friends we encourage children to creatively experiment with technology to make their characters expressive and unique."
Little Robot Friends can be purchased on the campaign website until May 27th, 2016 at
http://www.kickstarter.com/projects/aesthetec/all-new-little-robot-friends