Cincinnati-based Entrepreneur launches Kickstarter campaign to bring 'mimic' innovation to more people
Cincinnati, OH (Oct.1, 2016) – Robomotive Laboratories is changing the way the world sees robotics with the introduction of their transformative new robot, mimic. Today, the Cincinnati-based small family business launched a new Kickstarter campaign (https://www.kickstarter.com/projects/713401305/mimic-immersion-robot) to help advance the development and production of the new technology.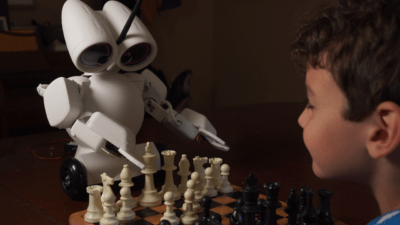 Mimic represents a technological breakthrough in the way people interact with a robot. Through a series of interfaces and controls, the user is transported and able to see what mimic sees, do what mimic does, feel what mimic feels, and go where mimic goes.
"After a successfully-funded Doorbell Phone campaign on Kickstarter, I began to indulge in my love of robotics and introduced the Cortex:Robot Arm controller," said Brett Pipitone, founder of Robomotive Laboratories. "We continued to develop the technology by adding joints, cameras and motion and soon realized that we had developed something truly unique: The mimic robot was born."
The key to bringing mimic to life is the mimic arm controller with patent-pending Posi-Feel grip controllers. The user wears a device that allows the seamless control of mimic's arms and grippers by moving his or her own hands and arms in natural ways while holding two simple handles with trigger style grip controllers. A series of joints, pivots and sensors are built onto the mimic Arm Controller to make this possible.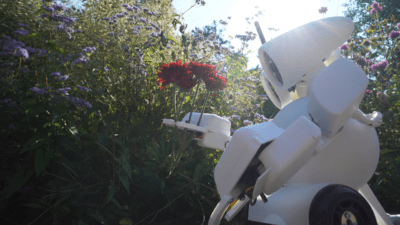 Mimic can also move around on its own power, controlled by the user with an IRS based foot controller. The user places both feet on the controller and tilts the device forward, back, left, or right to command mimic's movements in natural, hands free ways.
To complete the user's sense of immersion, immersion goggles receive 3D video from a pair of cameras in mimic's eyes. Not only does the user see what mimic sees in vibrant 3D, but using a series of sensors and motors the user's head motion is duplicated by mimic's head, allowing the user to change view by simply moving his or her head.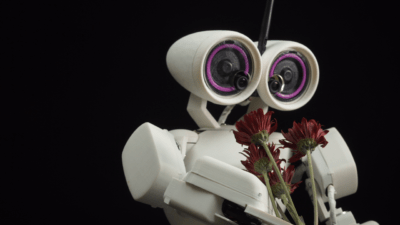 This assemblage of new technologies allows the user to see the world from a fresh, new point of view- that of a 12 inch tall, wide-eyed, rotund little robot. In the words of Robomotive Laboratories founder Brett Pipitone "mimic represents a technological breakthrough in think about human interfaces by adapting the robot to the user, rather than the other way around."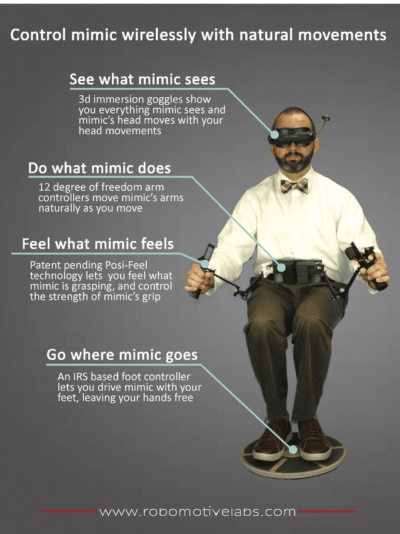 Robomotive Laboratories realized early that a single version of the mimic robot would not fit all users needs, so backers have a choice of four versions of the robot, each design with a different use in mind.
The mimic:maker version comes in kit form for the user to assemble. The kit includes a robot with two arms and grippers, as well as a mimic arm controller. The kit does not include a body, however, so the user can tailor the robot to their needs or to make something new. For even more flexibility, all the electronic inputs and outputs are exposed to be manipulated or utilized by the user, including record and playback through an on board SD card. "The future is being invented in basements, garages, and maker spaces all over the world. That's where mimic was born, and mimic:maker is a chance for other tinkerers to use and improve it," says Pipitone.
The mimic:play comes as a fully assembled robot, including the 12- degrees-of-freedom arm controller. While mimic:play doesn't have as many features as some offerings, it's just as adorable and its simplicity makes it more accessible for some users. Fun features like the mimic arm controller, Posi-Feeel grippers, and on-board SD card are included. As Pipitone suggests, "mimic:play is simpler than the other versions, but still offers intuitive control and a sense of feel. It's great for younger users or for interactive settings."
The mimic:social has all the features of mimic:play, but also adds the IRS based foot controller, 2D camera, and a video receiver to be attached to the user's television. "People love the concept of interacting from a distance," says Pipitone. "It's great fun to put mimic:social in a room and watch it's interactions on TV with your friends."
The mimic 3D is the most advanced and full featured version offered and includes the mimic arm controller with Posi-Feel grippers, the foot controller, and SD card, in addition to the immersion googles and 3D cameras. With this full suite of features the user can completely loose themselves in mimic's world. "This robot really transports you to an immersive reality. Everyday things seem huge, and you can interact from an entirely new point of view," describes Pipitone. "I can interact with my baby daughter on her level as an equal, while it's simple enough that my 6 year old son can pick it up and use it. It's an indescribable experience."
The implications of the mimic immersive reality robot are great, and users can be a part of it now by backing mimic on Kickstarter. According to Pipitone, "We've delivered the personal robot of the future. We're still working on flying cars and jet packs."
For more information, please visit: http://www.robomotivelabs.com/.