Neato extends leadership in the smart home, control your Botvac Connected through Alexa
 Newark, CA—November 22, 2016—Neato Robotics, leaders in smart robots for the home, today announced the award-winning Neato Botvac™ Connected is the first Neato robot vacuum that can be controlled via the Alexa voice service using devices like the Amazon Echo and Echo Dot.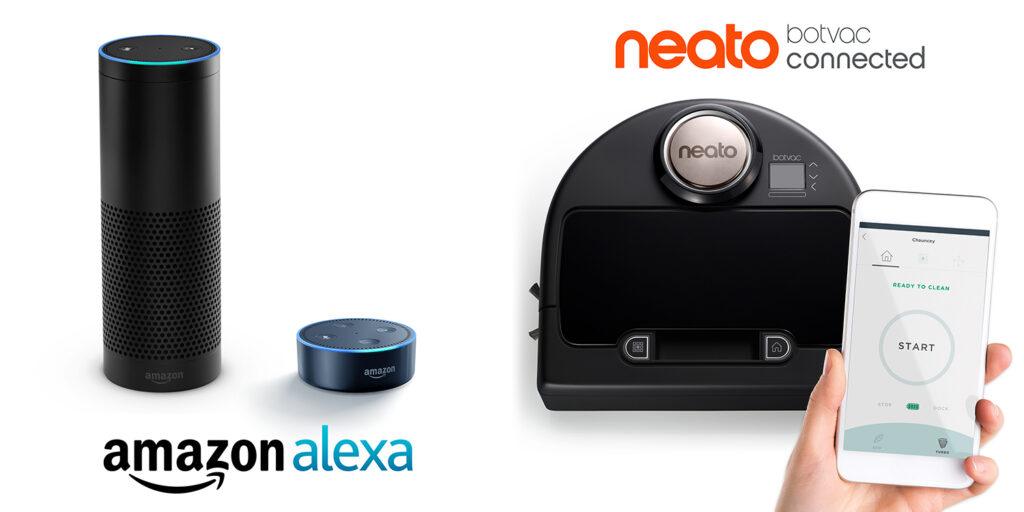 "Neato's innovation is a huge leap forward for the smart home. Alexa-enabled Botvac Connected advances Neato's vision of SmartLife™ —where using the latest technology to make your life easier is the clear path to smart living," said Giacomo Marini, Chairman and CEO of Neato Robotics.
The smart home is quickly catching on with consumers as many see the convenience of an intelligent connected device through which they can manage their home. For example, Alexa is able to assist users with everything from turning off lights to ordering a pizza. With the Neato Botvac Connected integration, Alexa can now voice-control the Neato robot vacuum. All it takes is a simple voice command – 'Alexa, ask Neato to start cleaning' – and it's done. Doing simple tasks is just the first step.
The possibilities are endless. Today, if the Neato Botvac Connected is already vacuuming your floors, and you get a phone call, just say 'Alexa, ask Neato to pause cleaning'—and give a resume cleaning command once you are off the phone.  The combination of Neato and Alexa means you can keep doing what you are doing and voice command your Botvac Connected at the same time so it fits into your SmartLife.
 About Neato Botvac Connected
Neato's first official collaboration with Amazon Alexa is now available. The Botvac Connected robot vacuum, which can be controlled via Alexa voice service, is the most powerful Neato robot to date. To take advantage of this new Alexa skill, launch the Alexa app on your smartphone and select Smart Home from the left hand navigation menu, Get More Smart Home Skills and search for 'Neato'. A Neato Botvac Connected is required, as well as an Alexa-enabled device such as an Amazon Echo or Echo Dot.
Neato Botvac Connected includes the company's patented Neato LaserSmart™ technology that combines laser scanning, continuous room mapping and real time object detection to plan the most efficient course to clean a home. This means Neato alters its navigation instantly when a new obstacle enters its path. Intelligent navigation, even in the dark, as it moves room to room, and knows when to return to its base for recharging — and then automatically goes back to where it left off to finish the job. The Neato robots' iconic D-shape design and CornerClever™ technology allows it to get close to walls and deep into corners. With one of the largest brushes and dirt bins on the market, Neato covers more square footage and picks up more debris than any other robot vacuum.
Availability
All existing and new Botvac Connected customers will have access to the Amazon Alexa skill today in the US and in the coming weeks in the UK and later this year in Germany.
About Neato
Neato Robotics designs robots for the home to improve consumers' lives, allowing them to spend less time doing household chores and more time on the things they love. Neato SmartLife™ is about the intersection of humans and robots in today's digital world enabling consumers to get back the most valuable thing that exists: more time. Neato drives innovation with intelligent laser navigation, smart home connectivity, and superior cleaning technologies. For more information, visit: www.neatorobotics.com.