Robots Love Ice Cream the Card Game, a semi-cooperative family friendly card game for ages 8+, launches on Kickstarter November 13th, from tabletop publishing studio 25th Century Games.
The card game is based on the hit video game Robots Love Ice Cream™ by mobile experience studio Dragon Army, also located in Atlanta, GA. The video game was released in 2014 and named one of the best games of the year on both iOS and Android. This tabletop version features all of the same characters and art style found in the video game plus new illustrations only available in the card game version.
"In the card game version, we capture all of the fun, fast-paced dynamics from the much beloved mobile game. The vibrant art, quirky characters, and semi-cooperative gameplay make it a must have addition to your family's game collection," said Chad Elkins, creator of Robots Love Ice Cream the Card Game. "It's hard not to like both robots and ice cream, so layering that theme on an easy to learn set collection card game proved to be a big hit in play testing."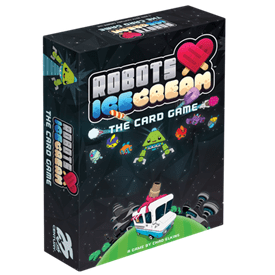 One to four players travel in their ice cream trucks to five different planets across the galaxy. They must work together to collect matching sets of weaponized ice cream cards and use them to destroy waves of attacking robots. If all of the robots are defeated, Spinston's plans are foiled, collectively saving that planet's supply of ice cream treats.
The crowd-sourced Kickstarter campaign for Robots Love Ice Cream the Card Game will help raise funds for the manufacturing costs to produce the game. The campaign will begin on November 13th and conclude on December 14th.
To learn more about Robots Love Ice Cream the Card Game, visit the Kickstarter page.
About 25th Century Games
25th Century Games is an Atlanta startup dedicated to publishing entertaining tabletop games and puzzles that bring people together. The company recently published their first project, a 1000 piece puzzle featuring a historic map of Atlanta from 1892. Their focus is designing games and puzzles which are family friendly and are suited for a variety of age levels.
About Dragon Army
Dragon Army, based in Atlanta, GA, is a mobile experience agency built to deliver the best entertainment to mobile devices everywhere. Consisting of a blended group of marketers, game designers, developers and artists, the team applies their diverse skills to create rewarding mobile experiences for the world's top brands. The company currently partners with The Coca-Cola Company, The Home Depot, Red Bull and InterContinental Hotels Group.