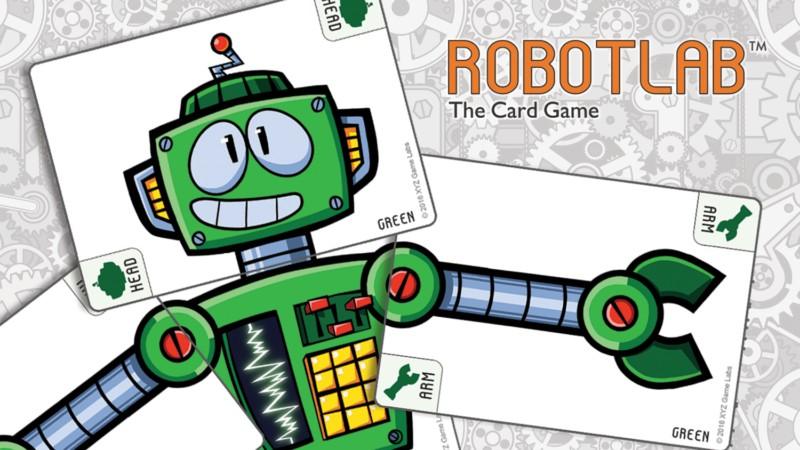 Chicago, IL – January 11, 2017.
Today, XYZ Game Labs launched a Kickstarter for RobotLab: The Card Game, a
STEM-inspired card game where players race to build robots.
RobotLab: The Card Game is a light, family-friendly card game where you
take on the role of a scientist racing to build your robot and claim the
coveted Devol Prize in Robotics!  Along the way you'll need to do some
research, deal with some faulty parts, and do your best to avoid the other
scientists trying to stop you.
"We wanted a game where the goal was creation rather than destruction. It
needed to be accessible for all types of players AND it needed to be about
robots," said RobotLab co-creator and XYZ Game Labs CEO Adam McCrimmon.
"We
designed RobotLab so people new to tabletop gaming would be able to easily
pick it up and learn, but we still wanted a game what was complex enough
to
hold the interest of experienced gamers. After months of testing, we think
we've struck the right balance for both newcomers and serious gamers."
RobotLab: The Card Game is for 2 to 5 players, ages 6 and up. The 2-player
game plays in about 10 minutes, adding 5-8 minutes for each additional
player. It includes a deck of 80 cards (assorted robot parts and action
cards) and 5 robot body cards. RobotLab: The Card Game is launching on
Kickstarter on Wednesday, January 11th. Delivery is anticipated in
October,
2017, and it is expected to sell for $20 at retail (Kickstarter backers
receive the game for $15 + $5 shipping).  For more information, you can
visit robotlabcg.com.
As part of their Kickstarter campaign, XYZ Game Labs will be donating
copies of RobotLab: The Card Game to a number of non-profit organizations
including: Lurie Children's Hospital, the Chicago Public Library and The
Night Ministry. Non-profit organizations interested in receiving games
should contact [email protected].
About XYZ Game Labs
XYZ Game Labs is a board game designer and publisher based in Chicago, IL.
The company was formed under the guiding principle that tabletop gaming is
one of the best ways of bringing people together and fostering meaningful,
long lasting friendships. RobotLab: The Card Game is the company's first
foray into the board game market.
RobotLab: The Card Game is a trademark of XYZ Game Labs, Inc.