NEW YORK  – Elemental Path, known for its award-winning line of artificial intelligence toys for kids, today launches an Indiegogo crowdfunding campaign to support its newest product in the CogniToys family, STEMosaur. The STEMosaur is a customizable toy that doubles as a learning companion for children, combining the best elements of the flagship CogniToys Dino, such as the Friendgine, with a more hands-on approach featuring Science, Technology, Engineering and Math (STEM) elements, as well as lessons in Coding. The Indiegogo campaign aims to raise $25,000 in 45 days, with the super early bird backer level starting at just $99. To support this campaign, visit https://igg.me/at/stemosaur.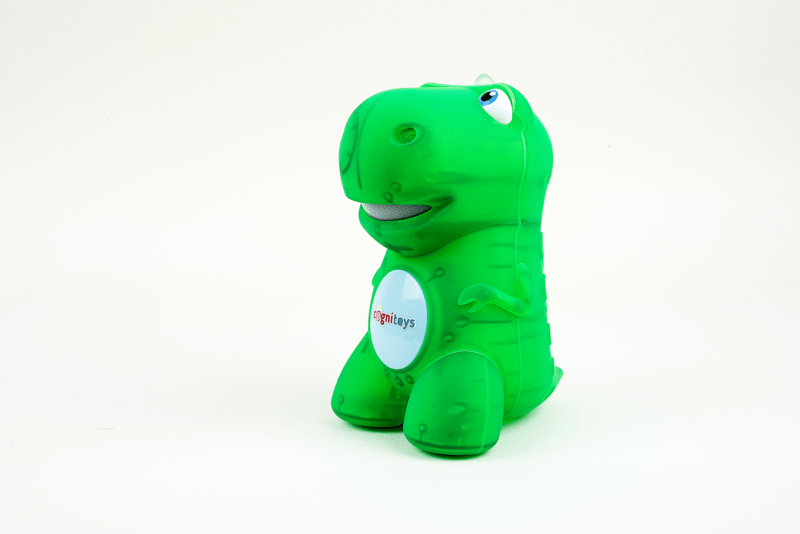 "We launched the Dino in 2015 with a very successful crowdfunding campaign that raised over a quarter-million dollars. In the past two years since, we've definitely learned a lot about our users and what they want in a product, and we are using these important lessons to create an even better and more hands-on experience with kids," said Donald Coolidge, CEO and co-founder of Elemental Path. "This time around with the STEMosaur, we'll be offering a more interactive and engaging experience – where kids will have the ability to construct the STEMosaur from scratch, carry intelligent conversation, play games and also learn the basics of coding."
With STEMosaur, kids ages seven and older can construct, code and play. The learning begins with a hands-on exercise that allows children to construct their new friend from a variety of building pieces to bring it to life. Once constructed, the Wi-Fi enabled STEMosaur is immediately capable of holding conversation, telling jokes and playing games that engage the user's imagination and creativity. This is achieved through Elemental Path's own Friendgine technology, a cloud-based artificial intelligence software platform that allows the smart toy to hold intelligent conversation with the child and share answers to questions in real time.
In addition, Elemental Path is launching its Coding Panel, an easy-to-use platform that will teach different elements of how to code and allow kids to create their own custom educational content and STEMosaur programming. The Coding Panel may be accessed through a computer or tablet and registers with the individual toy. Such features include coding the STEMosaur to tell unique jokes, share additional stories and play games of the child's choosing.
"It's clear that parents want their kids to play with toys that teach something, especially elements of coding and STEM. We see the STEMosaur, and the CogniToys line as a whole, as a way to unlock kids' creativity and foster their imaginations through intelligent hands-on play," added Coolidge. "Our goal is for CogniToys to help fuel the next generation of engineers and scientists."
STEMosaur is also equipped with a Parent Panel so that parents can stay engaged and informed about what their child is learning. The Parent Panel monitors usage patterns and learning progress. It also includes features such as a bedtime setting. Parents can use this platform to contribute directly to the child's educational experience, programming their own stories, jokes, games and more.
The Indiegogo campaign is now live and running through October 3rd with the goal of raising $25,000. Backer levels range from $99 to $255. There are also two special, higher-priced backer packages – a donation bundle priced at $1,250, where CogniToys will match your product purchase with a donation of 10 STEMosaurs to the school of your choice; and a $2,500 package, where you will receive an engraved STEMosaur and have the opportunity to tour the production facility and enjoy other exclusive perks. The company will ship all STEMosaurs in November for receipt in December 2017, so backers will be able to give the gift of STEMosaur this holiday season.
To view the campaign page, please visit https://igg.me/at/stemosaur. To learn more about Elemental Path and CogniToys, visit www.cognitoys.com.