BOULDER, Colo., February 19, 2019 ‒ Sphero, the industry leader in robotics fused with STEAM learning, announced today its Kickstarter launch of RVR – a ready-to-drive, fully programmable and customizable robot with endless coding possibilities. The campaign begins today on Kickstarter with pledge levels starting at $199 (MSRP for $249) and initial shipments will be available starting in September 2019. Backers who support the RVR project within the first week of launch will be eligible to be selected for an all-expenses paid trip to Sphero HQ in Boulder, CO to compete in an all-day RVR Hackathon on March 14, 2019.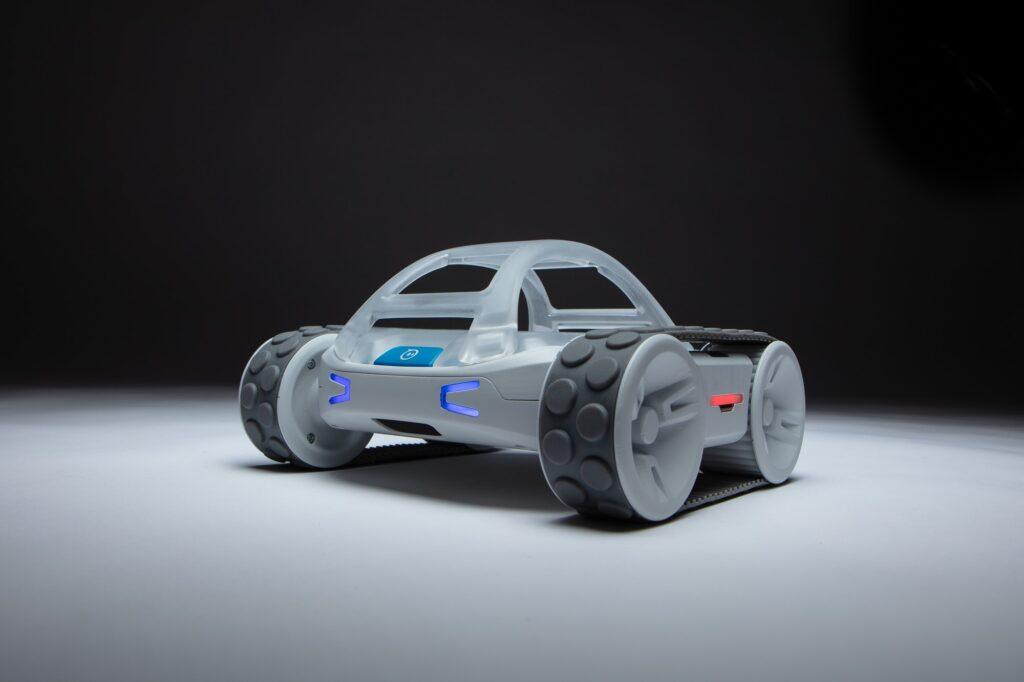 RVR is drivable right out of the box, making it approachable and accessible to coders of all levels, including beginners. In addition, its advanced features are geared specifically for those looking for a more complex coding experience — the first of Sphero's products to do so. For advanced coders, RVR can be fully customized through a universal expansion port, full suite of on-board sensors and an advanced control system.
"RVR is the kind of robot I wish I had growing up," said Adam Wilson, Sphero co-founder and chief creative officer. "For makers, developers and anyone who loves to build things, RVR's advanced capabilities bring to life everything that makes coding exciting. That creative experience is at the core of why we first started Sphero."
RVR is fast, exceptionally nimble and fun to drive for coders of all abilities. It sports a fine-tuned, high- resolution motor encoder, allowing it to be driven with extreme agility, accuracy and torque that can easily scale a 45-degree angle.
Beyond its out-of-the-box base, RVR's universal expansion port has the ability to connect to third-party hardware like Raspberry Pi, Micro:Bit or Arduino, allowing users to customize the robot however they want.
The robot is outfitted with several onboard sensors that will get any maker's imagination going: a color sensor, light sensor, IR, magnetometer, accelerometer and gyroscope, as well as a roll cage and clear protective plate that are removable. RVR's ambient light, color and 9-axis IMU are able to send and receive signals to interact with other Sphero robots. The large battery inside RVR is removable, making charging easier and faster.
"This is truly a professional-level robot, without the hefty price tag," said Wilson. "By connecting your hardware of choice to the expansion port, the customization possibilities are endless and entirely up to you. For example, you can hook up a camera to RVR and program facial recognition to do a dance every time your best friend walks by."
To support customization with the expansion port, Sphero is partnering with SparkFun Electronics to build kits that inspire users to take the RVR to the next level – from adding camera vision and GPS to building a complete autonomous vehicle. SparkFun is also backing the KickStarter through the "Get a Bot, Give a Bot" initiative, where they will match the first 50 RVR's purchased with a donation of 50 RVRs to schools.
With RVR, like all of Sphero's products, users have access to the Sphero EDU app, which connects a vibrant, active community of DIYers, makers, programmers, hackers and educators to share tips, questions and commentary. This unique community enhances the product experience, providing users with resources to take on new challenges, solve problems, be creative and share creations. Sphero will roll out an initial wave of RVR content on the app in conjunction with its launch.
To learn more about RVR, visit http://sphero.com/RVR or the Kickstarter project site. Follow Sphero on Facebook, Instagram or Twitter.
ABOUT SPHERO: Founded in 2010 and based in Boulder, CO, Sphero's ongoing mission is to inspire the creators of tomorrow. We're available in 80+ countries around the globe and have sold more than four million robots to date… and counting. Touted as "the best day of school" for kids, we aim to be all that and more as we continue to explore new technologies in the realm of creative play. We firmly believe that play is a powerful teacher, and as long as we're sparking imaginations around the world, we'll keep fueling that fire.
ABOUT SPHERO EDU: Sphero Edu uses app-enabled robots to foster creativity through discovery and play, all while laying the foundation for computer science. The Sphero Edu program goes beyond code with collaborative STEAM activities, nurturing students' imaginations in ways no other education program can. Cross-platform apps
are approachable for all skill levels, allowing us to reach as many minds as possible. To date, the Sphero Edu team works with more than 30,000 educators, in more than 20,000 schools across the globe. More than 1.3 million students have been positively impacted through Sphero Edu and its work to educate kids surrounding technology and computer science. For more information, visit sphero.com/education or follow @SpheroEdu on Twitter.