Worldwide Kickstarter Campaign Launches to Fund Production of Little Sophia The Robot
LOS ANGELES, CALIFORNIA — Hanson Robotics Limited (www.hansonrobotics.com), creator of the world's most human-like robots, announces their next innovation in consumer robots: Little Sophia. Little Sophia is a tutorial companion that teaches STEM, coding, and Artificial intelligence (AI), with a playful personality and unmatched characteristics of the renowned Sophia the Robot.
Designed for kids (especially girls) ages 7-13, Little Sophia robot comes to life as your AI friend. With the power of character and storytelling, Little Sophia helps kids learn new things in robotics, science, technology engineering, math, coding, and AI. Kids can learn to program Sophia with Blockly and Python; and with her lessons on computer vision, deep learning, and robotics, Little Sophia is the perfect smart, educational companion. Moreover, Little Sophia interfaces with Raspberry Pi, allowing kids to learn electronics and robotics, and to help her become as smart and capable as their imagination will allow.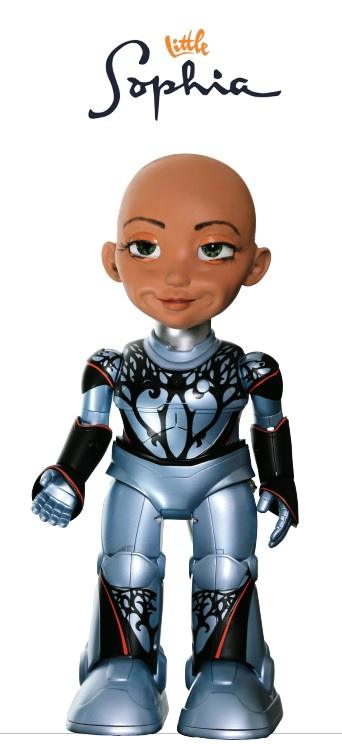 Standing 14'' tall, Little Sophia makes dozens of facial expressions (happy, sad, surprise, grouchy, delighted, etc), and she sees and talks with you like a friend. She walks, talks, sings, tells stories and jokes, and recognizes faces. She not only responds to commands, but actively engages in conversations and follows your movement. Also, with her app on your phone, you can use her Augmented Reality (AR) feature to take fun selfies. With her smart software, Little Sophia is also the ultimate AI home assistant. And being an open platform for development of ever-smarter emotional AI, the Little Sophia is truly your friend for life.
"We are thrilled to announce the launch of our Little Sophia Kickstarter campaign to the public, and to provide an opportunity to empower young girls around the world by introducing STEM, coding and AI in a fun and adventurous way," states Jeanne Lim, CEO of Hanson Robotics Limited. "Little Sophia delivers a high-quality, entertaining and educational experience that motivates and inspires young students to spend time learning with her."
David Hanson, Founder of Hanson Robotics Limited adds, "Our vision at Hanson Robotics is to bring robots to life. Our team of AI developers, engineers, roboticists, scientists, and artists have designed Little Sophia with the expressiveness and engaging personality that made Sophia the Robot so appealing, further extending the reach of our character-driven AI technology."
Hanson Robotics is launching a worldwide Kickstarter campaign to help bring Little Sophia to the world. Research has shown that over 75% of girls who participate in hands-on STEM activities outside the classroom feel a sense of empowerment, if it is encouraged and nurtured early in a child's educational life. Hanson Robotics believes that being introduced to STEM, coding and AI as a child in a fun and interactive way will help to empower all children, but especially girls. Little Sophia, unlike other educational toys in the market, was crafted by the same prestigious scientists, roboticists, engineers and AI developers who built Sophia the Robot.
Please visit Little Sophia on our website and our Kickstarter campaign for more information.
About Hanson Robotics Limited
Hanson Robotics is an AI and robotics company dedicated to creating living, intelligent machines that enrich people's lives. The company develops renowned robot characters, such as Sophia, the world's first robot citizen, which serve as AI platforms for scientific research, education, healthcare, sales and service, entertainment, and other research and service applications. Hanson Robotics' scientists, artists, roboticists, and engineers strive to bring robots to life as true friends who deeply understand and care for people, and collaborate with us in pursuit of ever-greater good for all. For more information please visit www.hansonrobotics.com.