In an ever-advancing digital world people are understanding less of the tech they use – Picoh was built to change that. We interact with robots at checkouts, speak to AIs on our phones and have our news feeds and adverts dictated by algorithms. To truly flourish in this digital age as many people as possible need to be able to understand, program and interact with machines – but sometimes it's hard to know where to start.
Picoh is the new robot head from the makers of the award winning Ohbot. It has three motors and can display a range of emotions on its LED matrix face. You can program Picoh to talk, move and show expression using our block-based app or using our open-source Python Library.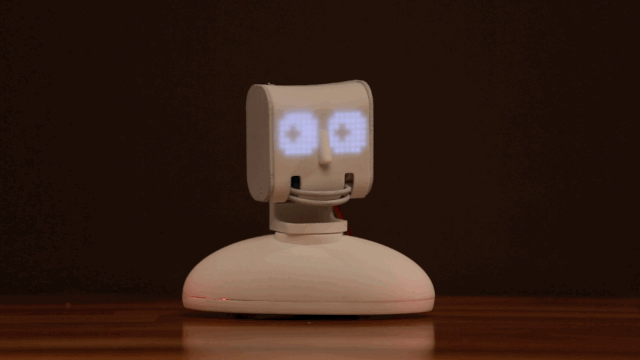 Alongside speech and movement, we have also included tools to help you create your own personal assistant. Picoh can listen, react to certain words and phrases and read other inputs such as a webcam or sensors.
At Ohbot, education is at the heart of what we do. Out of the box Picoh doesn't do anything – all of its features need to be unlocked. Picoh is a platform for exploring robotics coding and AI which can be as simple or as complex as you like.
Dan Warner, co-founder of Ohbot says: "We have developed simple software that allows everyone to control their Picoh, give them opinions and show personality. When I ask my Picoh what's the best football team in the world it smiles and says Forest Green Rovers – the team that's local to where we make our robots in Stroud, UK. This is all done with simple block programming that's used to get Picoh to speak and move when it hears a particular word or phrase".
Mat Walker of Ohbot continues: "We've been having a lot of fun with Picoh getting it to lip synch to singing and responding to what we say to it in unexpected ways. Picoh is really expressive with a moving mouth and customizable eye shapes. We've been developing robots for children for the past 4 years and we've learned so much in that time – Picoh is our chance to share what we've learned with everyone."
https://www.kickstarter.com/projects/ohbot2/picoh-an-expressive-little-robot-head