The LattePanda team launched its new generation of LattePanda 3 Delta on Kickstarter on November the 2nd 2021. The crowd funding campaign has already blasted past its required pledge goal raising over $200,989 thanks to over 731 backers with still 3 days remaining. Building on the company's previous mini PC systems, the new LattePanda 3 Delta computer is powered by the latest Intel 11th generation N5105 mobile quad-core processor offering up to 2.9GHz burst frequency. The ultra-thin design measures just 16 mm in thickness, enabling you to use the small form factor mini PC for a wealth of different projects.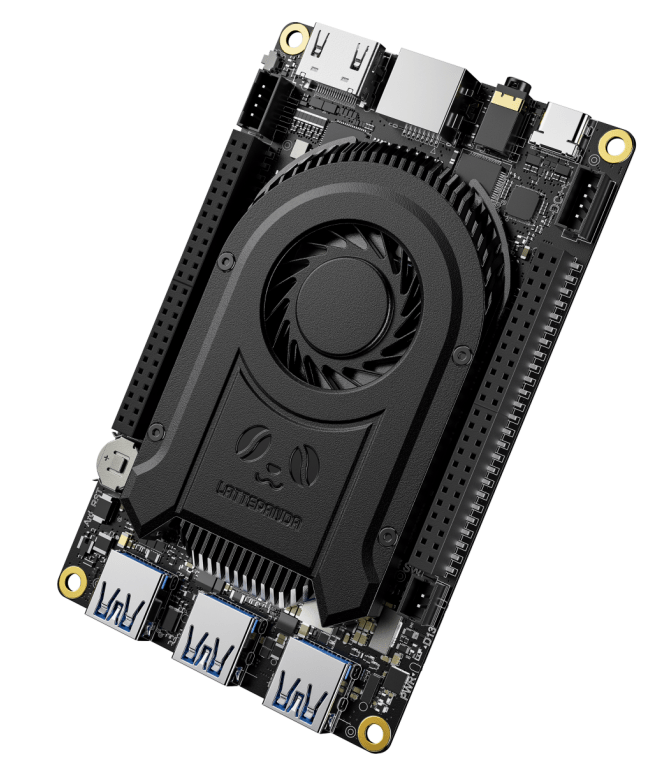 Hardware and Spec
The LattePanda 3 Delta is a 125 mm x 78 mm x 16mm Single Board Computer with CPU, memory, storage and Arduino components on the one side while up to 42 expandable interfaces for peripherals and GPIOs sit on the other. The added bonus of having a Gigabit Ethernet port onboard guarantees the device can connect to the Internet at extremely high speed.
Key Specification:
Processor: Intel N5105
CPU: 4-Core, 4-Thread, 4MB L3 Cache, 2.00~2.90 GHz
GPU: Intel UHD Graphics, 24 EUs, 450~800 MHz
Memory: 8GB LPDDR4 2933MHz RAM
Storage: 64GB eMMC
External Storage:
M.2 M Key: PCIe3.0 x2, Support NVME SSD;
M.2 B Key: SATA3, Support SATA SSD;
TF Slot: Support TF Card
Connectivity:
WiFi6(802.11ax): Intel AX201, up to 2.4Gbps
Bluetooth 5.2;
Gigabit Ethernet: Intel I211-AT, up to 1.0Gbps
Exteral Connectivity: M.2 B Key
USB2.0 lane: Support 4G Module;
USB3.0 lane: Support 5G Module
Video Output:
HDMI 2.0b;
DP 1.4 (via USB Type C);
eDP(with touch)
Audio I/O:
3.5mm Audio Jack(with Mic);
2.54mm Female Header
USB Port:
1x USB 3.2 gen2 x1;
2x USB 3.2 gen1 x1;
1x USB Type C
OS Support:
Windows 10;
Windows 11;
Linux Ubuntu
Co-processor: Atmel ATmega32U4
Power Input:
USB Type C PD;
12V DC
GPIO Female Header:
       2x 50pin GPIOs: including Audio Output, USB2.0, RS232, RTC, Power Management, Status Indication, Arduino Pinout, 5V&3.3V Power Output, etc.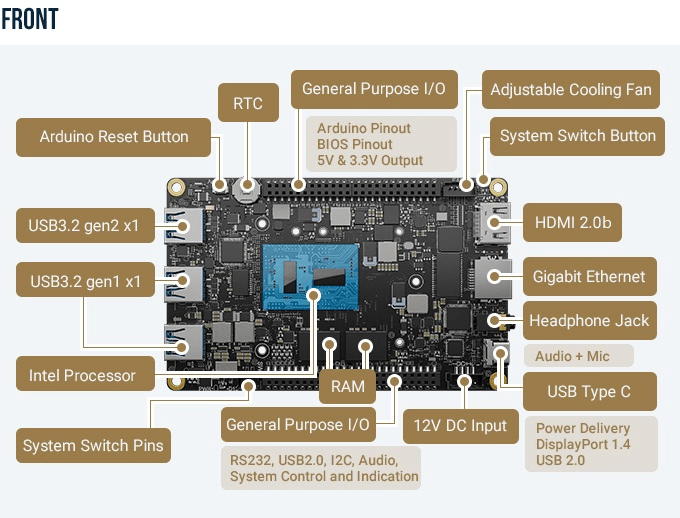 In Use
LattePanda 3 Delta has an Intel Celeron N5105, a Windows 10 processor that replaces the Celeron N4100. The Celeron N5105 features improved UHD Graphics and higher performance than the Celeron N4100. LattePanda 3 Delta offers 2x better processing performance and 3x faster graphics performance. With such excellent performance, you can use it to watch 4K HDR videos smoothly and even play some heavy games.
LattePanda 3 Delta contains up to 8 GB of LPDDR4 RAM and 64 GB of eMMC 5.1 flash storage, which ensures that you can load a large number of web pages in Chrome, or run multiple virtual machines fastly and smoothly.
LattePanda 3 Delta uses Wi-Fi 6 whose transfer speed is 2.7 times faster than Wi-Fi 5. Besides, LattePanda 3 Delta has a Gigabit Ethernet port onboard. You can connect to the Internet at extremely high speed.
LattePanda 3 Delta is compatible with both Windows 10 and Linux OS. Windows 11 can also be run on LattePanda 3 Delta. You can select various OS freely based on your project. No matter what operating system you use, the blue screen or crash is inevitable. LattePanda 3 Delta designs a "Watchdog Timer". When some problems occur, LattePanda 3 Delta will restart automatically and go back to work normally.
For those applications relying on battery, independent control of the power of all the USB ports and other power connectors are essential. LattePanda 3 Delta has made it possible. You can control the USB power and 5V power ON or OFF based on your project.
Being a hackable computer, the LattePanda 3 Delta is a perfect solution for home automation projects, robotics, in car entertainment systems, education and smart industrial systems. Below is a quick overview of all the available Kickstarter packages, components, operating systems, and pricing.
Pledges are still available from £169 or roughly $229 or CAD $284 and shipping is expected to take place during March 2022. Options are available to receive the computer with Windows 10 Pro operating system license for a little extra as well as being available with a UPS HAT for £206 or $279 or CAD $346 with shipping expected to be a month later during April 2022.For more information, full specifications and purchasing options jump over to the official Kickstarter crowdfunding campaign page by following the link below.