QUBS (www.qubs.toys) is a Swiss company producing traditionally-designed wooden toys with hidden high-tech magic: liberating children to explore their imagination, safely learn future skills and engage in educational, screen-free fun.
Inspired by the Montessori method, QUBS STEM toys educate as well as entertain. Playing with QUBS toys provides children, through play, with developmental skills in science, technology, engineering, and mathematics.
Loved by parents, teachers and, most importantly, young users (3 to 12 years), QUBS' intuitive, gender neutral toys – made from responsibly sourced and long lasting beechwood – contain patented technology which brings them to life. Unlike other tech-enabled STEM children's toys, QUBS' toys have an eternal shelf life, do not require updates nor access to the internet, and are completely screen-less, empowering children to become creators, rather than passive users of laptop or smartphone screens.
Each block and toy component contains a QUBS-developed and patented version of RFID (Radio Frequency Identification) technology (the innovation most commonly-used in contactless payments and key fobs). RFID technology is 100% safe and secure for children and grown-ups, allowing the individual tiles and blocks to interact, all within their own secure universe.
Cody Block
QUBS' first product, CodyBlock- to be showcased at Nuremberg Toy Fair – Spielwarenmesse Digital (where it has been shortlisted for the prestigious annual 'Toy Award') – features an independently-moving car (Cody), whose journey changes in response to a child's placement and arrangement of wooden blocks within its environment. Encouraging creativity and teamwork, Cody Block introduces children to computer programming concepts, robotics, and the Internet Of Things through fun and accessible play.
Learning computational skills in early years is essential. Cody the car, and the wooden toy blocks which shape his journey, teach kids to think like a programmer: being introduced to principles of debugging (the process of identifying a problem and correcting it) and sequencing (the specific order in which instructions are performed in an algorithm) through physical play.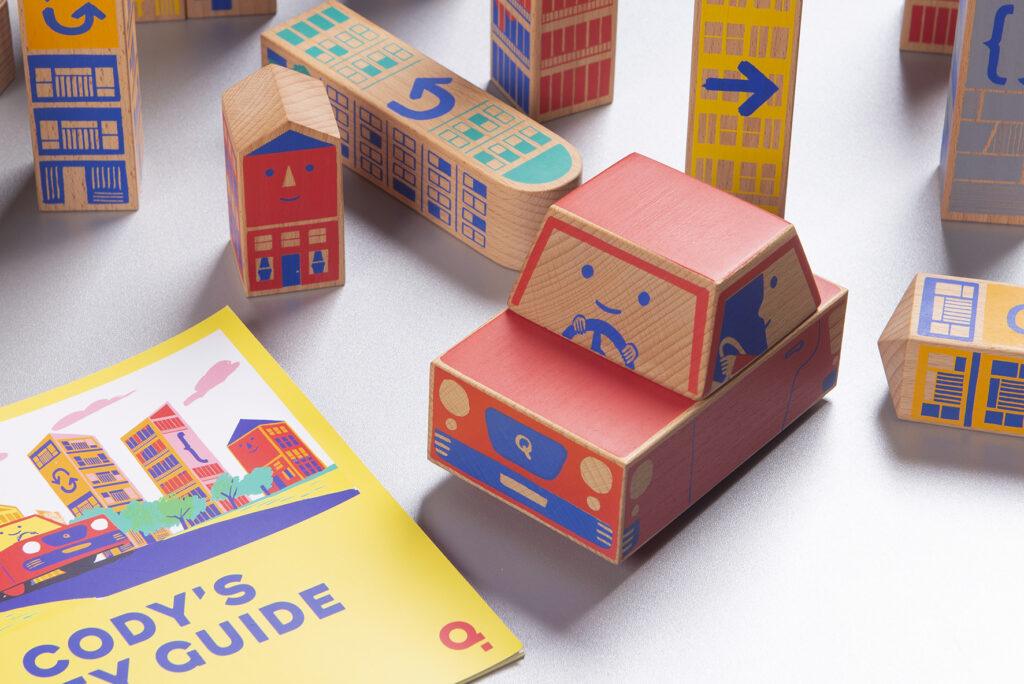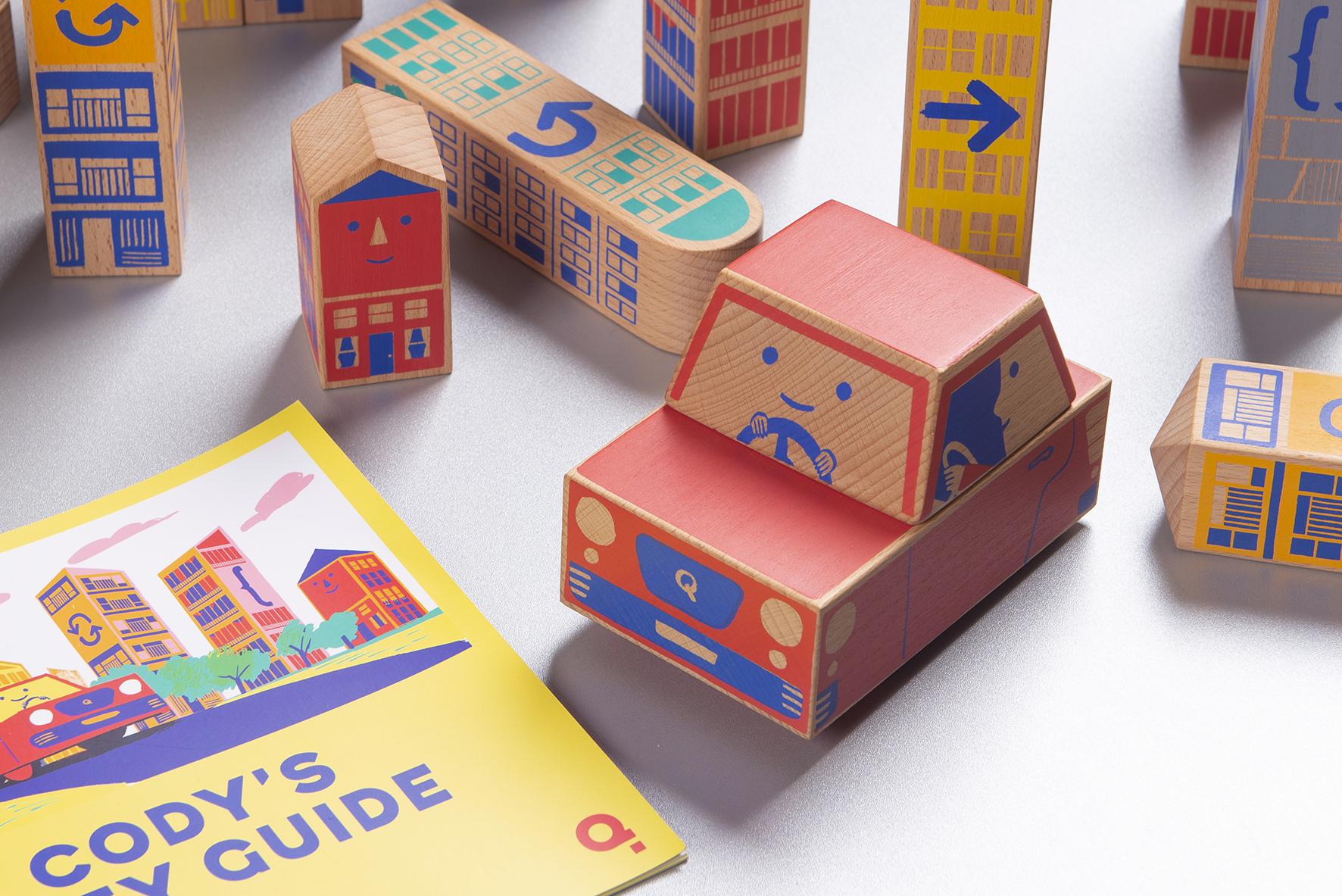 The task is to plan a path that leads Cody through the city and back home, his movements changing in response to the child's arrangement and rearrangement of the wooden blocks (each containing RFID tech). Each block denotes a different directional command (e.g. 'turn left', 'turn right', 'u-turn' etc.), creating a sequence of instructions. This allows children to improve their motor skills, critical thinking, creativity and spatial awareness.
Cody Blockis designed for kids aged 3-12, and will be available to ship in Q2 2022.
Matty Block
QUBS' second product, MattyBlock, is designed for ages 3-9, it helps children develop self confidence in mathematics by introducing the concepts of addition, subtraction and multiplication.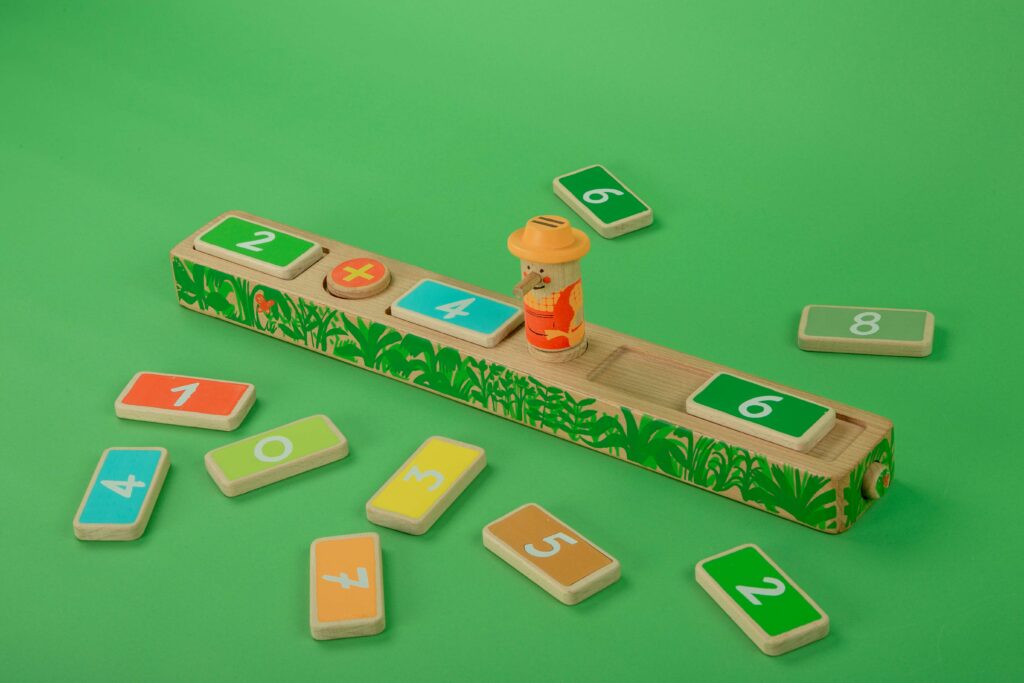 Children place Matty the farmer on a board above a sum of their own creation, formed by numbered tiles (representing seeds). With a nod or shake of his head, Matty guides young users to the right answer to the sum. MattyBlockfeatures voice feedback in six languages (English, German, French, Spanish, Italian and Mandarin), making it the perfect tool for children to play and learn autonomously. Its story setting provides a fun and comprehensive introduction to numbers and equations, while exploring the delicate and ever-changing world of nature.
Matty Blockwill be available in 2023.
About QUBS
Based in Zurich, Paris and London, QUBS Toys was founded by Hayri Bulman in 2019, a Swiss entrepreneur with over 30 years of IT expertise, working for GE (General Electric) and Xerox. Hayri's own fatherhood, passion for wooden toys and firm grasp of technology motivated him to create QUBS to better equip the future generations for the digital world. Inspired by the toy company TEGU in 2015, Hayri sought out to merge classic wooden toys with modern technology and soon started working on concepts that combined RFID technology with wooden blocks. Since then, QUBS has expanded into a vast team of designers, engineers and creatives from all across Europe.
In April 2020, at the very beginning of the global pandemic, QUBS raised CHF 88,887 (~£70,000) by 503 backers during a Kickstarter campaign.
QUBS Toys will be available for purchase online from www.qubs.toys, as well as from major stockists.