Join CoderZ's Robotics workshop serie, starting June 5th, and take your robotics skills to the next level. We encourage all robotics, STEM and EdTech lovers to attend this free sessions and to get to know a great way to engage students with the STEM fields.
The series, conducted by CoderZ's very own master trainers Adi Shmorak and Dorin Shani, is composed of 3 sessions, each covering a different topic. It's up to you how far you want to take it.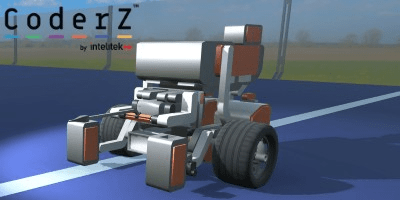 Session 1: In which you get to move your virtual robot around
In this session, we will learn the various components of a robots drive train; how it is powered, how it turns and how to control it using code.By the end of the session you will be driving your virtual robot around.
Session 2: In which you will see the world like a robot
In this session, we will learn about the various sensors robots use to sense their surroundings and how to put this data into good use, using code.By the end of the session you will understand how robots collect data from their surrounding and be able to integrate that data into our code using conditional statements.
Session 3: How Robots Think?
In this session, we will learn how to use variables , loops and math to program our robots to perform complex operations and accurately navigate their surroundings. By the end of session, you will be able to program your virtual robot to autonomously follow a line using basic control algorithms.
The entire CoderZ team will be waiting for you there! Save your spot here: http://bit.ly/2rgk2wj