San Francisco, California – March 6, 2018 – Segway Robotics, a wholly owned subsidiary of Segway-Ninebot Group, is proud to launch Loomo, a smart machine that toggles between a mini personal transporter and mobile robot sidekick. Loomo is now available for pre-order on Indiegogo today, with limited early bird pricing starting at $1299.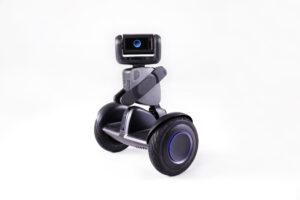 Loomo will launch with a core set of foundational features, with more capabilities unlocked over time through over-the-air (OTA) updates. Out of the box, you can ride Loomo as a mini transporter, let it follow you autonomously as a robot sidekick, or show off Loomo's playful personality to your friends. Loomo also comes with a free Android-based SDK for professional developers and enthusiasts alike to build on top of our mobility + AI platform.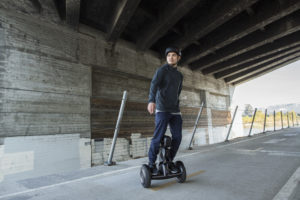 Loomo's key features include:
Self-Balancing Transporter: Smooth ride experience across most terrain types, with speeds of up to 11 MPH, and the capacity to cover 22 miles in one charge; a voice-based tutorial allows anyone to learn how to ride Loomo in mere minutes
Auto-Follow Expert: With advanced computer vision, Loomo can follow you autonomously, shoot stabilized video, and more
Avatar: Use your smartphone as a remote control to access all of Loomo's capabilities – see, speak, interact, and explore as if you are Loomo
Friendly & Expressive Personality: Powered by its emotion engine, Loomo's lovable nature and lighthearted expressions will cheer you up and impress everyone around you
Multiple Control Methods: You can control Loomo via your smartphone app, voice command, gestures and touch sensors
New Skills Unlocked Over-the-Air (OTA): Loomo will continuously update its software and app OTA to include new features
Free Loomo Android SDK for developers: Directly access Loomo's mobility and AI capabilities to build a range of playful features or practical solutions
"Segway-Ninebot has already put millions of wheels on the ground that cover 180 million kilometers each year. But what happens if you combine Segway's proven mobility technology with cutting-edge AI? Well say hello to Loomo," said Li Pu, President of Segway Robotics.  "For many, Loomo is a reflection of our movie fantasies growing up… it embodies our vision of how mobile personal robots can become a part of our everyday lives."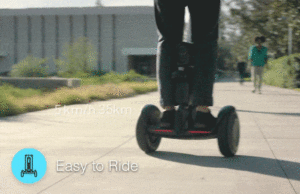 The Loomo Indiegogo campaign launches March 6, 2018. Limited early bird pricing will be set at $1299. The basic pack includes 1 Loomo, 1 AC/DC adapter, 1 extended air tap, and 1 USB 3.0 Type-C cable. Loomo will begin shipping to backers in May 2018.
About Segway Robotics
Segway Robotics is a privately held company that focuses on developing and commercializing personal robots. Founded in 2015, it is fully owned by Segway-Ninebot Group, a Series C company. The company has notable backers including the likes of Sequoia Capital, Intel Capital and Xiaomi.
To find out more about Segway Robotics: http://www.segwayrobotics.com/