Expressive robot speaker connects with any Bluetooth-capable device and converts any type of audio played in real time into motion using intelligent algorithm to drive the feet of the robot using bionics technology.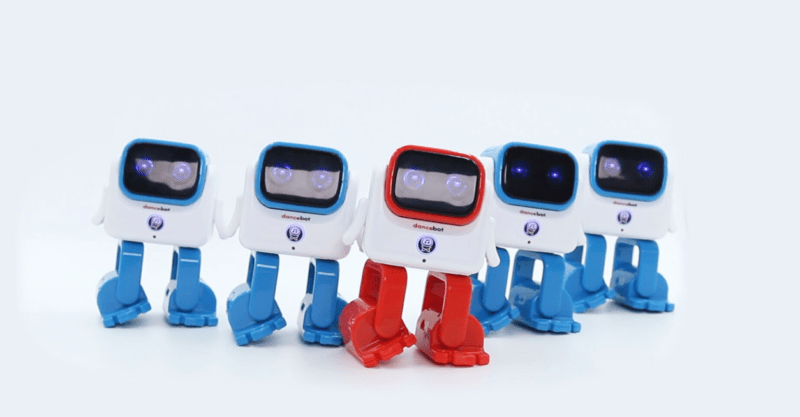 HOUSTON – Aplus Drones is pleased to announce the launch of Dancebot, a smart dancing robot speaker designed with intelligent algorithm technology, today on Kickstarter. Dancebot reached its funding goal of $10,000 in just 2 hours.
Dancebot is the world's first smart dancing robot speaker. Connect your device to Dancebot via Bluetooth and use it as a speaker. Dancebot will move to the audio it plays.
Aplus Drones has developed an algorithm to analyse audio input on the fly to string together movements that best express the sound played through Dancebot. It moves to the rhythm and tempo of music in its adorable expression of the songs. It taps its feet and jives to upbeat tunes. It slides in silky sleek movements to bring out the sexy in slow pieces.
Dancebot is designed with two joints in each leg. A motor drives each joint through 360 degrees of motion. Aplus Drones engineers have been creating a database of movements Dancebot is capable of. The variation of speed and degree of motion at each joint creates multiple permutations of possible moves that can be achieved with the four joints. The large library of movements and on-the-fly analysis means Dancebot has a different dance routine each time it jives to the same song.
The movement expressed by Dancebot depends on the audio it plays. Besides playing music, Dancebot can be used to play audiobooks, videos, podcasts or even voice messages.
This makes Dancebot the perfect companion for children. Play a children's audiobook or nursery rhymes with Dancebot and it will move to the narration of the story and dance along to the nursery rhymes. Dancebot's animated movements makes learning more engaging and a whole a lot more fun.
The startup sound for Dancebot can be customized into a personalised message, making it ideal as a gift.
For more information or to purchase Dancebot at a special discount during crowdfunding, visit the Dancebot Kickstarter campaign page.
About Aplus Drones
Aplus Drones is an entrepreneurial technology company focusing on artificial intelligence and robotic technology development. The company provides award-winning product design, product development, manufacturing, marketing, logistics and shipping services. Full control over the whole supply chain makes Aplus a one-stop solution for clients.
About Dancebot
Dancebot is a smart dancing robot speaker that is a fun audio companion. It moves to the rhythm and tempo of the audio played through it. Play music, audiobooks, podcasts, videos or even voice messages