igus offers to accompany medium-sized companies into the automation age with an online platform for low-cost automation
Cost-effective robots with components from various manufacturers that can be configured and ordered online in just a few clicks. The Cologne-based motion plastics specialist igus offers this service with an online platform rbtx.com for Low Cost Robotics. Thanks to a modular system, even small medium-sized companies will achieve automation for a few thousand euros.
A pick-and-place robot heads towards the conveyor belt, reaches for a small electrical component, turns it over and places it in a testing machine. Thousand times a day. Faster and tireless than the best worker. Such scenarios are commonplace among global players. The industry giants are steadily increasing the level of automation and thus increasing the competitive pressure on small and medium-sized enterprises. But many small companies are avoiding the topic. The investment costs are too high. Too confusing and complex is the interaction of the components of different manufacturers – including mechatronics, control systems and software.
An entry barrier that is unnecessary, says igus. The company specialises in the development of Low Cost Robotics and has therefore introduced the online platform rbtx.com at the Hannover Messe 2019 in cooperation with other manufacturers. "As far as mechanics, bearings, motors and gearboxes are concerned, we can offer competent advice to interested parties. However, it is also a fact that other companies are leaders in terms of cameras, grippers or control software," says Stefan Niermann, head of the newly established Low Cost Automation division. "This is precisely one of the reasons why an online platform that combines the different skills makes sense, so that the customer can quickly get the right robotics solution for them."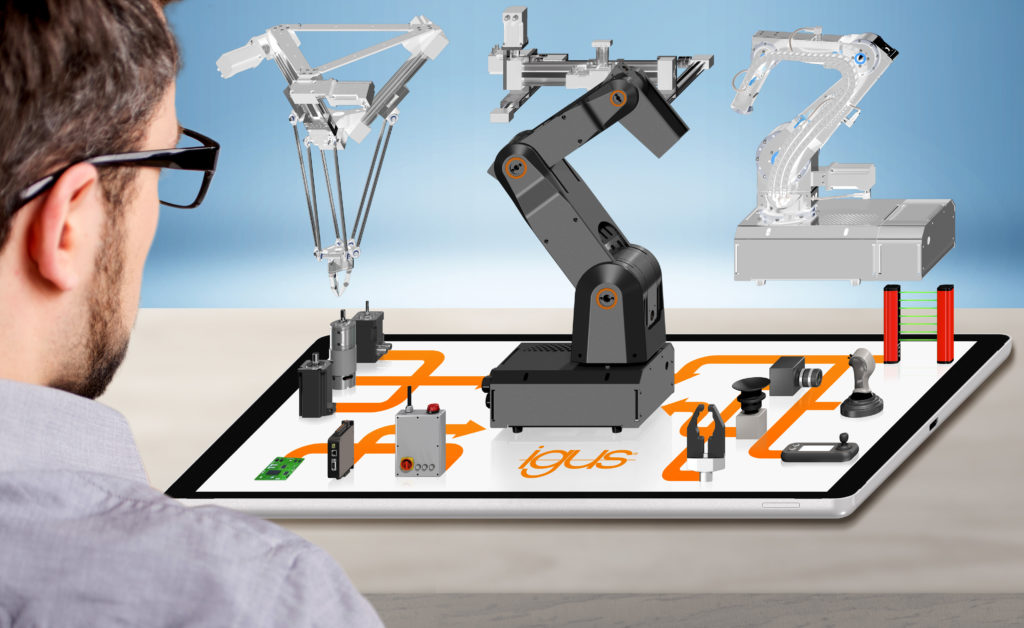 Make your own robot with just a few clicks
The idea is to enable customers to assemble their own robot solution with just a few clicks of the mouse. The basic electro-mechanical structure is the "rohbot" from igus, among them articulated-arm robots, delta robots and Cartesian robots. In the next step, the user supplements this basic structure to include individual components from various manufacturers, such as grippers, cameras, GUIs, power electronics, motors, sensors and control systems. The advantage: All components are compatible with each other.
"The concept intended for companies, start-ups, research institutes and mechanical engineering companies offers fast, customised robot solutions at low starting costs of just a few thousand euros, which will pay for itself in a short time and bring quick profits", explains Niermann. "What we are talking about here is a low-risk way of entering the era of automation and investing in the competitiveness of tomorrow." Another advantage: All manufacturers would be able to continuously expand the online platform with new components. The users always have a clear access to a rapidly developing market segment.
Ready-to-connect articulated arm robots for 5,000 euros
igus has experience with Low Cost Robotics. The company has been developing automation solutions for order picking, feeding, quality assurance and assembly for many years. These include robolink DC – a modular system that allows users to assemble articulated arms with a robust and lightweight plastic housing, gearboxes and motors into a robotic arm of their own. The offer also includes robolink DCi, a pre-configured, ready-to-use automation system. It consists of a 4 or 5-axis robot and a control system that is integrated at the base of the gripper arm in a space-saving manner. The control software of the partner Commonplace Robotics is specifically designed for the robolink DCi. With it, movement sequences can be set as intuitively as on a smart phone. PC and control cabinet are not required.
In order to keep pace with the rapid development of the global automation industry, igus continuously invests in research and development work. As a result, the engineers succeeded in laying the cables inside the arm in the new generation of the DC system. A tidy and space-saving design that predestines robots for human-robot collaboration. The compact and lightweight articulated arms make comprehensive use of the advantages offered by igus motion plastics: light, lubrication-free and maintenance-free, durable and cost-effective in production. As a result, small, configurable quantities can be created just as large quantities for mechanical engineering companies and robot manufacturers. The clearance of the new arms has been further reduced as a result of the joint kinematics, an innovation that enables greater precision of the robolink. You can place parts weighing up to three kilograms with a precision of +/- 0.5 mm in a workspace with a diameter of almost 790 mm. Compared to conventional industrial-grade robot arms, which are currently not available under 15,000 euros, the new robolink DC arm (as a five-axis model) makes a significant difference at 3,400 euros. This price can be realised because many components of the articulated arm robot, such as the strain wave gear in the fifth-axis, are not made of metal, but of the so-called tribo-plastics. "These high-performance plastics not only enable cost-effective production, but also display their advantages in ongoing operation," says Niermann. "Robot components made of tribo-polymers do not require any lubricants and are therefore maintenance-free. In addition, they are stable, corrosion-free and lightweight at the same time."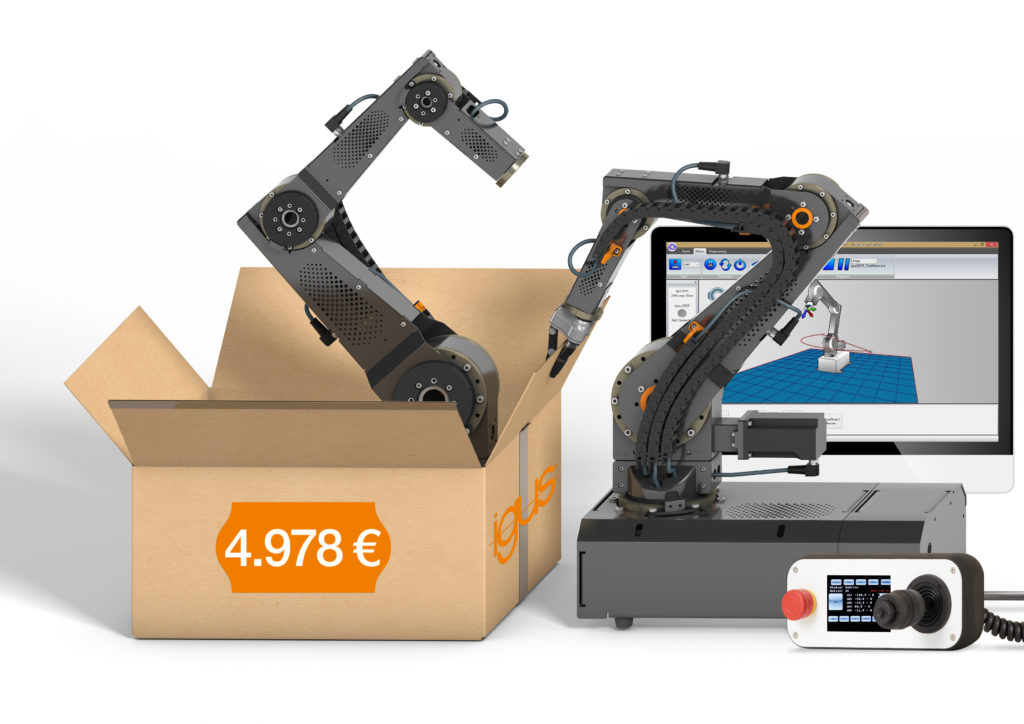 Modular system for development and research
Anyone who believes that they can only find turnkey solutions at igus is mistaken. Even experienced engineers will get something for their money. This is where robolink Apiro comes in – a modular system consisting of joints, profiles, gearboxes and motors of various sizes, with which designers can implement automation systems. Even very complex systems! For this purpose, igus has decoupled the motor and gearbox from each other and developed a novel worm gear made of tribo-polymers, with which, for example, simple SCARA kinematics can be implemented. The joints are attached by means of a multi-functional profile made of aluminium. Multiple joints can be connected in a series if desired. "Thanks to the modular system, there are countless combination options. There are really no limits to the imagination," says Niermann. "Users of the Apiro modular system therefore include not only mechanical engineers, but also training institutions and development and research departments."
Room linear robots and delta robots as a low-cost option
The ABC of automation technology includes room linear robots and delta robots. For the low-cost sector, igus has therefore developed room linear robots in several extension levels, which are available from 1,799 euros. They consist of pre-configured linear modules and aluminium linear axes and NEMA stepper motors. With the small complete solution, loads of up to 2.5 kilograms can be transported in a workspace of 400x400x100 millimetres at a maximum speed of 0.5 metres per second. Two ZLW toothed belt axes and one GRW gear rack axis ensure precise guidance and lubrication-free operation. The room linear robots are used, among other things, in pick-and-place applications in the fields of medical technology and microelectronics.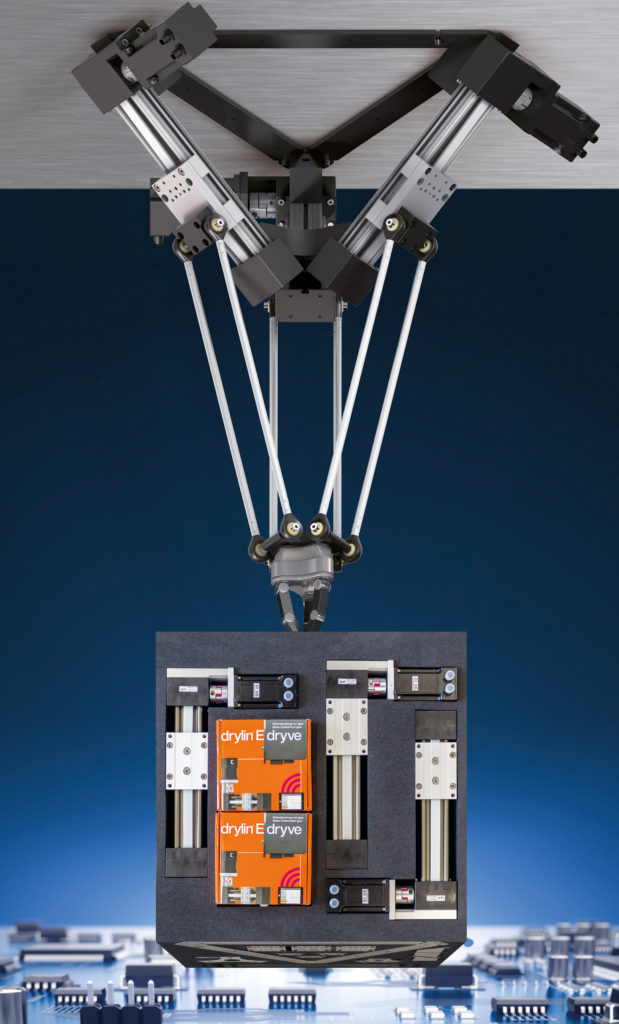 The delta robots are also suitable for pick-and-place tasks. They are based on three ZLW toothed belt axes, NEMA motors and lubrication-free coupling joints and can position in an installation space up to 420 millimetres components weighing up to one kilogram with a precision of +/- 0.5 millimetres, at a speed of up to 60 picks per minute. At lower speeds, the system even carries up to five kilograms. The price of the robot is less than 5,000 euros. "If users have their own switch box, the costs including integration are between 10,000 and 15,000 euros," says Niermann. "The costs are paid off after a maximum of half a year. Afterwards, the company makes profit with automation."
Automate simple tasks cost-effectively
The Low Cost Automation solutions from igus are also relied upon by the Langhoff family. In their small enterprise, the family breeds giant red worms, which are, for example, used by anglers, as food for animals, for hunting or as a natural fertiliser producer for the garden and greenhouses. Langhoff developed completely new machines to fully automate the feeding and watering process with lubrication-free and durable drylin room linear robots from igus. The monotonous feeding and watering steps no longer need to be done by a person full-time so that they can focus on more demanding tasks. "With the new plant, feeding and watering can be carried out around the clock, even when there is a shortage of staff. In addition, errors are reduced to an absolute minimum," explains Martin Langhoff, owner of Superwurm. There are already companies around the world who have identified the same market niche as the Langhoff family. However, labour-intensive worm breeding is hardly automated there. That's what the Langhoffs want to change in their business. The plan is to double the current level of automation in the worm farm. "Small businesses need to use affordable and easy automation solutions for production and warehousing, such as those from igus, to keep up with the big ones," says Martin Langhoff.
More informations:
igus linear robots: https://www.igus.eu/robolink/cartesian-robots
robolink robots: https://www.igus.eu/robolink/robot
delta robots: https://www.igus.eu/info/robotics-delta-robot