Judges recognize the world's first haptic robotic system to transmit realistic touch feedback to an operator located anywhere in the world
Converge Robotics Group reached the finals of the $10M ANA Avatar XPRIZE competition for an avatar system that can transport human dexterity to a remote location in real-time.
Converge Robotics Group is an international collaboration between Shadow Robot Company, HaptX, and Tangible Research responsible for developing the Tactile Telerobot, a high-fidelity dexterous telerobot in use in the U.S., U.K., and Asia, and now advanced to the ANA Avatar XPRIZE finals.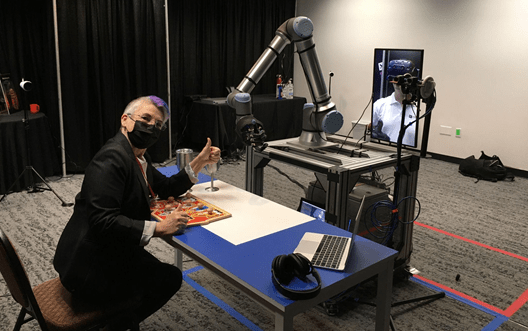 The Tactile Telerobot features Shadow Robot's Dexterous Hands, HaptX Gloves DK2 with true-contact haptics, SynTouch's biomimetic tactile sensors, and Universal Robots robotic arms to allow an operator to perform complex human tasks instantaneously across the globe such as handling objects in laboratories or workshops. The Tactile Telerobot mimics your movements, displaying human-like and reactive behaviours. Users can feel what the robot hands are touching, making it possible to connect humanity across vast distances like never before.
The groundbreaking technology of the Tactile Telerobot has been described as "weirdly natural" by Amazon founder Jeff Bezos, who added, "The tactile feedback is really tremendous." The Telerobot's most recent improvements for the XPRIZE Semifinals, hosted in Miami, include the use of high-fidelity audio and visual technology and other safety and usability improvements. It meets the competition's criteria for a non-autonomous Avatar System with which an operator can see, hear, and interact within a remote environment in a manner that feels as if they are truly there.
Rich Walker, Managing Director of the Shadow Robot Company, said, "We're coming up to Shadow's 25th anniversary as a company and what a way to lead up to it by reaching the finals for a four-year global competition! The Shadow Dexterous Hands have been a sought-after product among the research community ever since we formally registered as a company. What the Hands can achieve today, on their own and as part of the Tactile Telerobot, is truly revolutionary and it'll only get better."
"Lifelike touch feedback is a critical component of transporting human presence," said Jake Rubin, founder and CEO of HaptX. "The Tactile Telerobot demonstrates the difference that true-contact haptics makes in the field of robotic teleoperation, and we're delighted for HaptX and our partners in Converge Robotics Group to receive this recognition from the ANA Avatar XPRIZE judges."
"I'm proud of the accomplishments of our international and interdisciplinary team," said Jeremy Fishel, founder and CTO of Tangible Research and Converge's XPRIZE team lead. "We've brought together experts in robotic dexterity and haptics with the amazing technology of our partners and collaborators to do amazing things."
In the XPRIZE Semifinals, the Converge Robotics Group debuted their collaboration with Voysys, a company that specialises in high-quality, low-latency video communication for the teleoperation of vehicles and machines.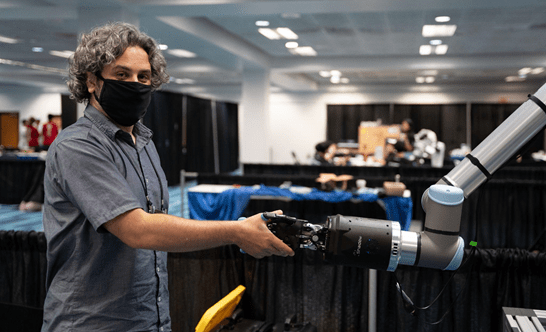 "The combination of the Voysys video pipeline with ultra-low latency, the HaptX Gloves DK2, and the sensitive robot hand from Shadow Robot truly revolutionizes telepresence and makes remote working possible for a whole range of new industries," said Magnus Persson, CEO of Voysys.
"Advancing to the ANA Avatar XPRIZE finals alongside excellent competition is a significant milestone in this journey," said the Converge Robotics Group in a statement "We look forward to showing how our Telerobot system can be used by ordinary people in amazing ways, making engineering jobs safer, reducing the need for global travel (and CO2 emissions) and letting us spend more time at home with our loved ones."