On-demand robot delivery now available in Pleasanton, CA at Lucky California flagship store
SAN FRANCISCO (February, 2022) – Starship Technologies, the world's leading provider of autonomous delivery services, is now delivering groceries in the San Francisco Bay Area. Starship is expanding its partnership with The Save Mart Companies for the exclusive launch of an on-demand grocery delivery service at its Lucky California flagship store in Pleasanton, CA. Lucky is the first grocery store in the San Francisco Bay Area to partner with Starship. 
Starship and The Save Mart Companies first partnered in September 2020, when the Save Mart flagship store in Modesto became the first grocery store in the U.S. to offer Starship robot delivery service. Since its launch, that store has expanded its delivery area to serve over 55,000 households. In Pleasanton, the service is launching to thousands of residents, with the delivery area expected to grow rapidly in the coming months, similar to Modesto.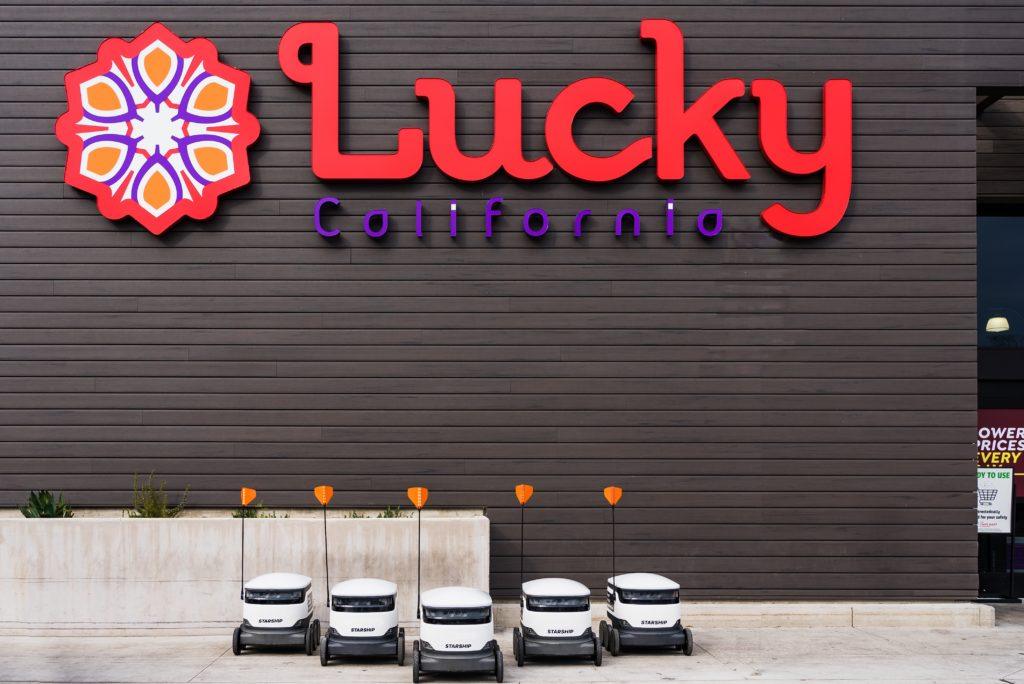 "We are very pleased to bring the benefits of autonomous delivery to Pleasanton, in partnership with Lucky California," said Ryan Tuohy, SVP of Sales and Business Development at Starship Technologies. "Since launching our service in Modesto in 2020, we've been excited to see the extremely positive reaction to the robots and how they were embraced as part of the local community. We think the residents of Pleasanton will appreciate the convenience and positive environmental impact of autonomous delivery and we fully expect the service area to quickly expand to more households."
The robots, each of which can carry up to 20 pounds of groceries – the equivalent of about three shopping bags – provide a convenient, energy-efficient, and low-cost delivery alternative to driving to the Lucky California store, allowing shoppers to browse thousands of items via the secure Starship app for on-demand delivery straight to their home.
The robots travel autonomously – crossing streets, climbing curbs and traversing sidewalks – to provide on-demand delivery to shoppers. They often become local celebrities as community members share their robot selfies and "love notes" on social media.
"Since the debut of our contactless delivery service at the Save Mart flagship store, feedback from the Modesto community has been incredibly positive," said Barbara Walker, senior vice president and chief marketing officer for The Save Mart Companies. "We are thrilled to expand this service to Lucky California in Pleasanton and offer a safe and efficient grocery delivery solution, along with some joyful entertainment, especially as the service area progressively expands over time.."
The Starship Food Delivery app is available for download on iOS and Android. To get started, customers choose from a range of their favorite groceries and drop a pin where they want their delivery to be sent. When an order is submitted, Lucky California team members gather the delivery items and carefully place them in a clean robot. Every robot's interior and exterior is sanitized before each order. The customer can then watch as the robot makes its journey to them, via an interactive map. Once the robot arrives, the customer receives an alert, and can then meet the robot and unlock it through the app.
Starship already offers its services in many parts of the EU, UK and the US in cities, university campuses and industrial campuses, with further expansion planned in the near future. Starship is able to do L4 deliveries everywhere it operates – entire cities and campuses. The robots have been operating at L4 since 2018. On a daily basis Starship robots will complete numerous deliveries in a row 100% autonomously, including road crossings. This is why the cost of a Starship delivery is now lower than the human equivalent, which is believed to be a world first for any robot delivery company, whereas most others are still majority human controlled and in pilot mode.
Starship Technologies operates commercially on a daily basis around the world. Its zero-emission robots make more than 100,000 road crossings every day and have completed more than 2.5 million commercial deliveries and travelled more than 3 million miles (5 million+ kms) globally, more than any other autonomous delivery provider.