The Festo-MassRobotics Healthcare Robotics Startup Catalyst program celebrates the milestones achieved by the program's four selected global startups at the Healthcare Robotics Engineering Forum. Key life sciences and robotics speakers to lead the event.
The successful Healthcare Robotics Startup Catalyst program came to an end on April 7th, 2022. The concluding ceremony will be held at the Healthcare Robotics Engineering Forum, Boston Convention and Exhibition Center, on May 11, 2022. The event includes an impressive line-up of speakers: ​​Fady Saad, Co-founder & Vice President of Strategic Partnerships at MassRobotics; Alfons Riek, Vice President of Technology and Innovation at Festo; Kendalle Burlin O'Connell, President & Chief Operating Officer at MassBio; Kenn Turner, President and CEO at Mass Life Sciences Center; and Brian Johnson, President at MassMedic. All four selected startup companies, Kinarm (Canada), Assistive Technology Development Inc. (United States), Eureka Robotics (Singapore), and Bionomous (Switzerland ) will, in turn, promote their companies, along with their products and service offerings. They will also be demonstrating their technologies on the event's expo floor.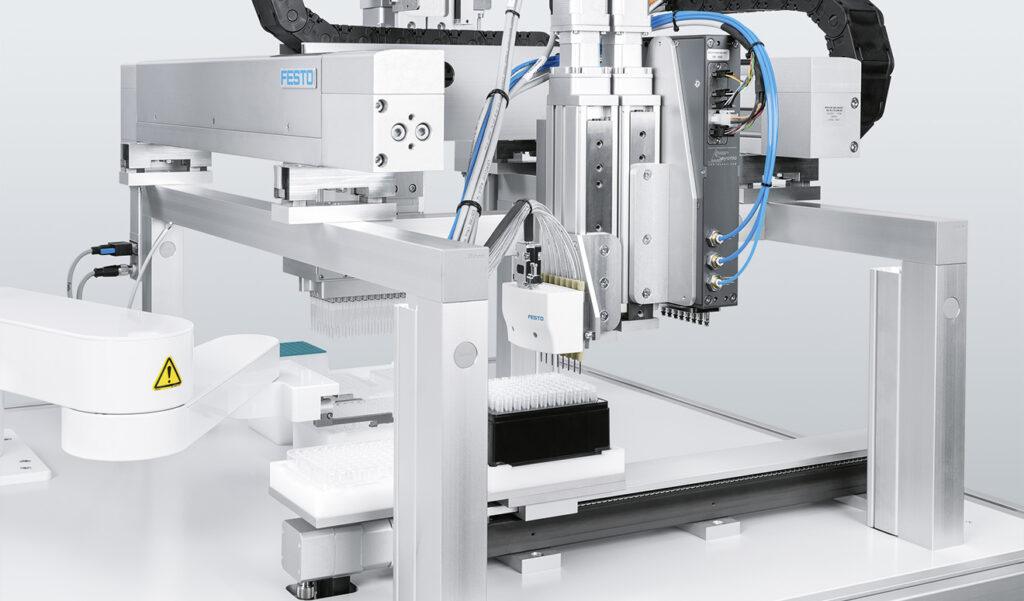 In October 2021, MassRobotics, Festo, and other key players in healthcare robotics, launched a Startup Catalyst Program to advance healthcare robotics companies around the world, by providing the networking opportunities, guidance, and resources they need to grow and succeed. The aim of the program was to connect healthcare robotics startups with customers, investors, suppliers, marketing, and overall support. The program focused on startups in the areas of clinical care, public safety, laboratory, supply chain automation, out-of-hospital care, quality of life, as well as continuity of work and education, and training and support for healthcare professionals.
More than 30 companies applied from all over the world, and the selection committee invited four to join in the program. The participating startups completed impressive milestones, as detailed below:
"I am grateful to Festo's pioneering work to support our efforts to find global disrupting applications and startups in such a human-care field like healthcare, including life science, biotech, and medical devices," said Fady Saad of MassRobotics.
"I am impressed with the quality of applications we received, and the unique structure of the program that allowed us to select such innovative companies and match them with world-class advisors," said Festo's Alfons Riek. "Certainly, we are excited about the networking opportunities opened to these companies and to presenting them to the world as great examples of the power of utilizing robotics in healthcare."
MassRobotics, Festo, and additional corporations plan to launch the second version of the program by July 2022 to build on the programs' amazing momentum and impact.
ABOUT MassRobotics: MassRobotics is the result of the collective work of a group of engineers, rocket scientists, and entrepreneurs with a shared vision to create an innovation hub and startup cluster focused on the needs of the robotics and IoT community. MassRobotics' mission is to help create and scale the next generation of successful robotics and connected devices companies by providing entrepreneurs and innovative robotics/automation startups with the workspace and resources they need to develop, prototype, test, and commercialize their products and solutions. See www.massrobotics.org for details.
About Festo: Festo is a global player and an independent family-owned company with headquarters in Esslingen am Neckar, Germany. Festo has set standards in industrial automation technology and technical education ever since its establishment, thereby making a contribution to the sustainable development of the environment, the economy, and society. The company supplies pneumatic and electrical automation technology to 300,000 customers of factory and process automation in over 35 industries. The LifeTech sector with medical technology and laboratory automation is becoming increasingly important. The products and services are available in 176 countries. With about 20,000 employees in over 250 branch offices in 61 countries worldwide, Festo achieved a turnover of around €2.84 billion in 2020. Each year around 8 % of this turnover is invested in research and development. In this learning company, 1.5 % of turnover is invested in basic and further training. Festo Didactic SE is a leading provider of technical education and training and offers its customers worldwide comprehensive digital and physical learning solutions in the industrial environment.