Pittsburgh, PA, March 31 – IAM Robotics is breaking boundaries in the midline autonomous mobile robot (AMR) market with its new robot, Bolt™. Making its debut April 12, 2021 at ProMat DX, Bolt gives you the power to do more in material handling—faster, longer, and farther.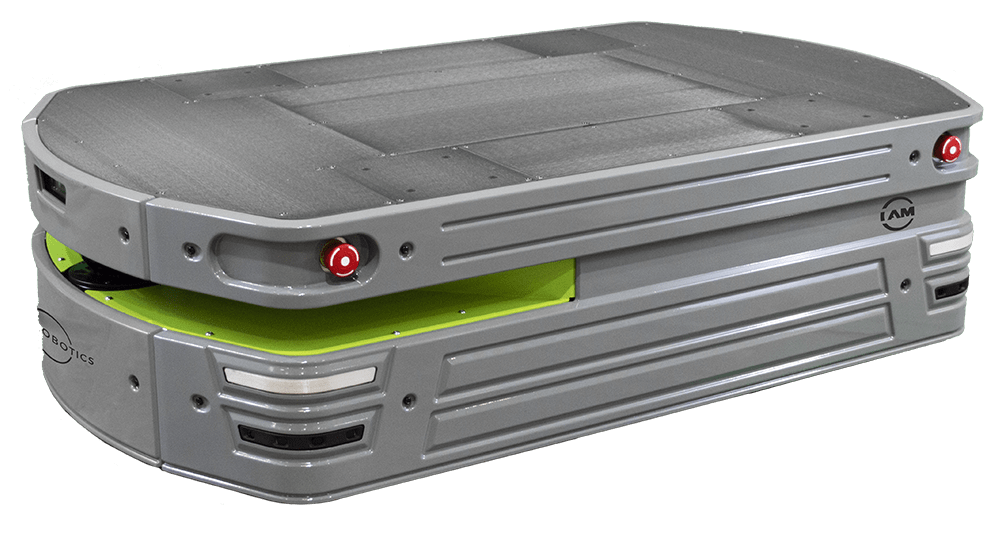 Packed with high-tech features, Bolt is built to thrive in warehouse and manufacturing environments. It elevates productivity and efficiency to new heights and stands out as an autonomous mobility solution for more than just a few reasons:
● Adaptability – Bolt allows you to retrofit various tops to serve your needs, from piece-picking arms to pallet movers. Choose from standard solutions or customize a unique top. No other AMR has this flexibility.
● Smarter Safety – Bolt uses 360-degree vision and a combination of state-of-the-art sensors and direct-drive wheel motors to ensure complete safety. Direct-drive wheel technology means Bolt's entire body acts as a bump sensor. And for this to work, Bolt offers the same type of power-force-torque limiting as collaborative robot arms.
● Unmatched Power and Efficiency – Bolt is powerful, with a battery 3.5X the size of similar AMRs and 20-hour runtime that exceeds any other AMR. The patented hot swap battery makes it easy for one person to change in ten seconds or less. Plus, with a best-in-class 661-pound payload capacity, customers never compromise.
Bolt is completely autonomous, is compatible with conveyor and material handling systems, and scales easily for any size application.
Founder and CEO, Tom Galuzzo, reflected on developing the robot. "When we built our AMR, we thought, 'How can we make this the most powerful, flexible, and collaborative solution?' Bolt expands on our AMMR, Swift™, by turning its base into a standalone AMR. We applied what we learned with Swift, honing in on battery power and direct-drive wheels to ensure Bolt has the power to operate safely and efficiently—even with top modules attached." He continued, "Bolt is already opening new doors for IAM Robotics because it introduces us to a faster-growing market with general AMRs." 
IAM Robotics knows AMRs are in high demand because of their benefits to businesses over existing automation and human labor. AMRs have a low barrier to entry because they're relatively affordable, and they deploy in as quickly as a matter of weeks—so businesses can hit the ground running. But they're also flexible. AMRs provide the power of autonomous mobility, so you're not limited by stationary conveyors, and they're designed to collaborate with and complement human workers and existing automation. Bolt is certainly no different, doing all this and more.
For more information about Bolt, explore the product online or get in touch with IAM Robotics to discuss specific applications.
###
About IAM Robotics
IAM Robotics is the future of material handling. Our mobile robotics platform powers operational excellence in an on-demand world.
We are dedicated to building adaptable and safe robotics solutions that seamlessly integrate into any operational environment. Our team of robotics engineers and supply chain veterans work closely with partners to model, simulate, and configure optimal solutions that keep their businesses competitive.
IAM Robotics was founded in 2012 and is proudly based in Pittsburgh, Pennsylvania. The company is home to over 50 employees and supports customers worldwide.
To learn more, please visit iamrobotics.com.