SANTA CLARITA, CALIF. (PRWEB) MAY 03, 2021

Tombot, creator of Jennie, the World's first affordable, FDA-regulated medical grade robotic animal designed to stimulate emotional attachment, just launched their equity crowdfunding campaign and is looking to raise up to the maximum permissible funding goal of $5M via a Regulation Crowdfunding (Reg CF) offering on StartEngine!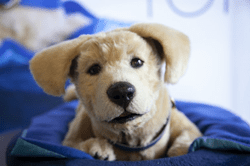 Millions of people facing health adversities cannot safely or practically care for a live animal companion. Jennie, selected as one of TIME's 2020 Best Inventions, was designed to significantly reduce the behavioral and psychological symptoms of dementia, and reduce the need for psychotropic medications, for the 90M+ seniors with dementia and pre-dementia mild cognitive impairment worldwide.
Weiterlesen