SANTA CLARITA, CALIF. (PRWEB) MAY 03, 2021

Tombot, creator of Jennie, the World's first affordable, FDA-regulated medical grade robotic animal designed to stimulate emotional attachment, just launched their equity crowdfunding campaign and is looking to raise up to the maximum permissible funding goal of $5M via a Regulation Crowdfunding (Reg CF) offering on StartEngine!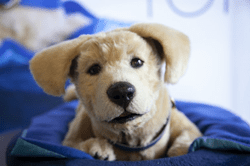 Millions of people facing health adversities cannot safely or practically care for a live animal companion. Jennie, selected as one of TIME's 2020 Best Inventions, was designed to significantly reduce the behavioral and psychological symptoms of dementia, and reduce the need for psychotropic medications, for the 90M+ seniors with dementia and pre-dementia mild cognitive impairment worldwide.


Tombot creates robotic animals that transform the daily lives of individuals, families, and communities facing health adversities. Tombot conducted three rounds of consumer studies with 100s of seniors with dementia during product design. Tombot's research showed seniors strongly prefer robotic animals with realistic appearance and behaviors.

Tombot's Co-founder and CEO, Tom Stevens, founded the company based upon his mother Nancy Stevens' personal battle with Alzheimer's dementia. Tom has spent over 30 years as a high-tech C-level executive, with a Masters in Business Management from Stanford University.

Tom states, "All of the decisions made along the way were science driven and evidence-based. We're focusing on the needs of one patient at a time and making sure we can provide them with the necessary medical benefits."

To perfect the artistic design, Tom turned to Jim Henson's Creature Shop, a world-renowned puppet workshop that provides digital visual effects and animatronic creations for the film and advertising industries. "When we did our review of animatronic companies, we found Jim Henson's Creature Shop stood head and shoulders above the rest for creating realism in animals," states CEO Tom Stevens, "I think Jennie really speaks for herself as an example of the amazing artistic talents of Jim Henson's Creature Shop."

Public demand for Tombot's robotic animals is already skyrocketing. Currently, there are over 7,500 pre-order and waitlist customers waiting for Jennie's next litter, with the first already sold out!

Tombot's team of highly successful business professionals and tech innovators also include COO, Jesse Schorz, who has previously spent over 20 years in management and leadership positions, is responsible for the construction and production of all of the realistic behaviors in Tombot's prototypes. Hank Schorz, who spent over 40 years as a high tech C-level executive, invented the perception, control and behavior systems for Tombot's robot puppy.

Tombot is seeking to become the leader in medical grade robotic animals designed to provide mental and physical health benefits for people with a variety of health adversities.

Interested in learning how Tombot is helping seniors battling dementia combat loneliness and depression with the first affordable, FDA-regulated robot animal Jennie? You can learn more and invest in Tombot's offering on StartEngine to help get Jennie into the hands of those who need her most.