Sebastian from Robots-Blog was able to do a short interview with Annelie Harz from Wandelbots. Learn in the interview what Wandelbots is and why programming might soon become obsolete.
Robots-Blog: Who are you and what is your job at Wandelbots?
Annelie: My name is Annelie and I work as a marketing manager at Wandelbots.
Robots Blog: Which robot from science, movies or TV is your favorite?
Annelie: Wall-E, actually. A little robot that does good things and is just adorable.
Robots Blog: What is Wandelbots and where does the name come from?
Annelie: The name describes the CHANGE (german: "Wandel") of RoBOTics. Because that is exactly what we do. We enable everyone to handle robots, which today is only reserved for a small circle of experts. Our long-term company vision is: "Every robot in every company and every home runs on Wandelbots". And that promises big change on a wide variety of levels – starting for us with industry.
Robots Blog: Who is your product aimed at and what do I need for it?
Annelie: Our product is currently aimed at customers from industry. Here, our software – Wandelbots Teaching – can help with programming various applications such as welding or gluing without having to write a line of code. It is designed to be so simple and intuitive that really anyone can work with it to teach a robot a desired result. This works through the interaction of an app and an input device, the TracePen. This takes the form of a large pen with which users can draw a desired path for the robot on the component. But we also work together with educational institutions. They are the ones who train the next generation of robot experts. And in the long term, we are convinced – and this is already part of our vision – that robots will also find their way into private life as little helpers.
Robots-Blog: What feature is particularly worth mentioning?/What can't anyone else do?
Annelie: Our product works robot manufacturer independent. In robotics, each manufacturer has developed its own proprietary programming language over the years. This makes communication between humans and machines very difficult. We, on the other hand, want to create a tool that allows any human to work with any robot – completely independent of programming language and manufacturer. Robotics should be fun for the user of our product. Thanks to the high usability and the operation of our app via iPad, this is already possible today. And over the next time, application-specific editions will be added to our platform – currently, for example, we are working on an app version for robot welding.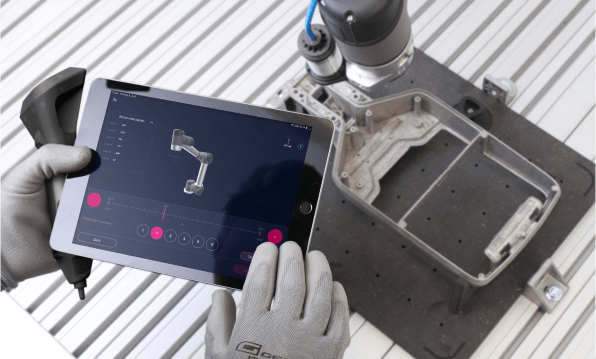 Robots Blog: Do I still need to learn programming at all?
Annelie: No. As I just explained, with this so-called no-code technology, you don't need to learn programming anymore. It is simple, intuitive and user-friendly, even for laymen. Of course, you always need to have some basic understanding of robotics, especially for safety reasons. You should never underestimate the dangers posed by robots, which is why our product always works according to the respective manufacturer-specific safety specifications.
Robots Blog: What robots are supported? I have a Rotrics DexArm and an igus Robolink DP-5; can I use those as well?
Annelie: Of course, shortly after entering the market, we first want to make robotics in the industry, for example the automotive sector, more flexible and easier. To do this, we are gradually integrating the largest robot brands into our platform. We will certainly also integrate smaller robot brands that cover one or more niches. Or – even better – thanks to our Robot Integration Software Development Kit, robot manufacturers will soon be able to do it themselves.
Robots Blog: How much does your product cost?
Annelie: Our product is offered via a licensing model as a subscription, as is common in the Software as a Service business, or also classically for purchase. The current prices for the different editions can be found on our website (and you will certainly find more exciting content there)