Los Angeles, CA – May 4, 2015:​Introducing "Tinker" the
programmable toy robot that teaches kids how the basics
of computer code through its insertable command playing
cards. Ex-Mattel engineer, Kay Yang, developed the
adorably-designed robot as an alternative for kids to
code devices without having to learn a specific software
language.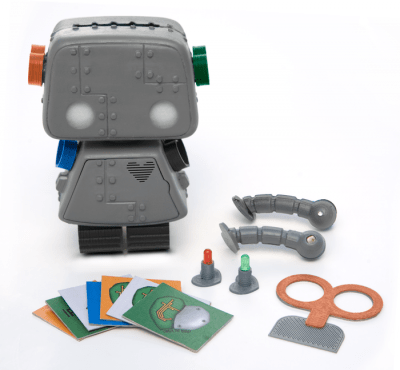 Build. ​Kids start by assembling Tinker from head to toe
with the basic pack of arms and LEDs. Beginners plug the
arms into the toy's sides and the LEDs into the ear
sockets. Programmers will also be able to attach
motorized tracks to the bottom of Tinker to allow the
device to move freely. Future accessories include a
microphone, tilt sensor, and bluetooth capability.
Program. ​To program Tinker, kids simply insert a one of
the brightly colored cards that corresponds with the
action they want Tinker to take. Then insert the "if" card
to activate the sensor. Finally, they insert the key card to
activate play mode. Tinker is also Arduino-based and
open source, allowing beginners to graduate and move
into more complex coding using Scratch.
Graduate. ​While programming typically requires a computer application, Tinker is the first toy to teach coding without software. This rudimentary system breaks down the steps so that children can understand the basics of coding by illustrating how a sequence of actions activated affects the play experience. Once users graduate from the cards, they program the toy through the USB plug hidden behind Tinker's tummy.
Tinker the Robot will be available exclusively on Kickstarter from May 4 – June 4,
2015, with the first shipment delivered to customers by Late 2015/Early 2016.