First-time users can program their collaborative robots and industrial robots for free within minutes
System integrators and experienced users can develop, share, and customize sophisticated programs for application-specific features
ABB Robotics has expanded the scope of its free Wizard Easy Programming software for collaborative robots to include all six-axis industrial robots running on an ABB OmniCore™ controller. This makes ABB the first robot manufacturer to offer an easy-to-use no-code programming tool for cobots and six-axis industrial robots. This lowers the barriers to automation for early adopters and provides ecosystem partners and integrators with an efficient tool to support their customers.
"If we want to promote and advance the use of robotic automation on a global scale, we need to address the challenges and opportunities of the industry," says Marc Segura, head of the robotics division at ABB. "By adding our six-axis industrial robots to Wizard Easy Programming, ABB Robotics is responding to the skills shortage and increasing demand from manufacturing companies for simple and easy-to-use programming software for their robot fleets."
Create robot applications without prior training
Wizard Easy Programming uses a graphic, drag-and-drop, no-code programming approach designed to simplify the development of robotic applications. The software allows both first-time and experienced robot users to create applications in minutes – a task that typically requires a week of training and another week of development work. Since its launch in 2020, Wizard Easy Programming has been used in a wide range of applications in conjunction with ABB's YuMi, SWIFTI™ and GoFa™ collaborative robots.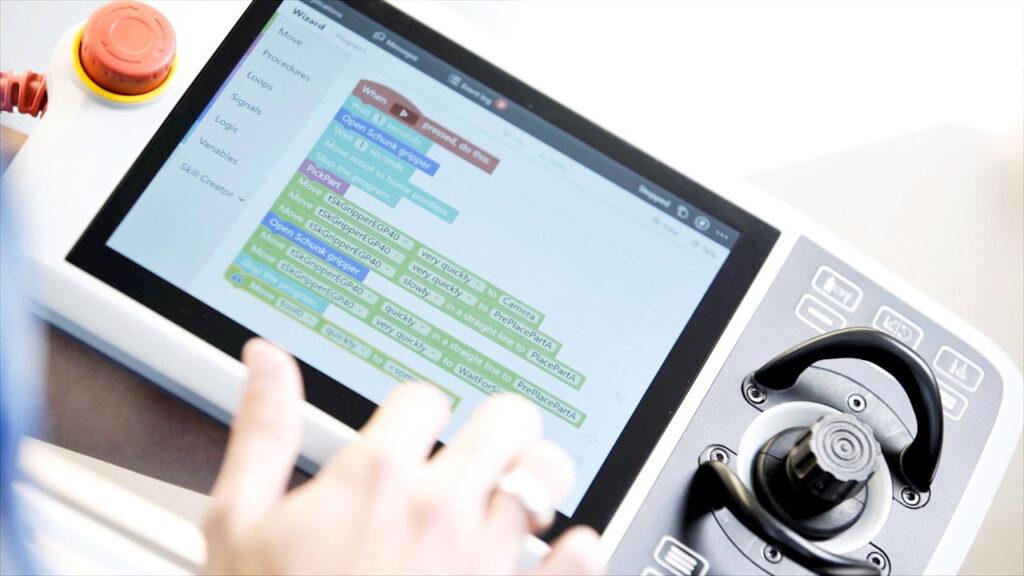 The software offers users the opportunity to create complete programs for applications such as arc welding or machine tending without prior training. An intuitive graphical user interface allows you to customize existing programs and pre-programmed blocks to control various actions – from robot movements to signal instructions and force control – for added flexibility.
Efficiently generate specific codes for specific applications
Wizard Easy Programming also includes Skill Creator, a tool that helps system integrators and experts create custom, application-specific wizard blocks for their customers. Skill Creator simplifies the creation of new blocks for highly specific tasks such as machine tending and welding, but also for difficult applications such as medical tests. Ecosystem partners who develop accessories such as grippers, feeding systems and cameras will have access to a digital tool that allows them to share product-specific functionalities regardless of the type of robot to be used.
Wizard Easy Programming is pre-installed on all cobots and new six-axis industrial robots running ABB's OmniCore controller. The leading robot controllers of the OmniCore family are characterized by an energy saving potential of 20 percent on average and a high degree of future-proofing – thanks to integrated digital connectivity and over 1,000 scalable functions.
More information about Wizard Easy Programming is available here.