Cambridge, MA, November 2nd, 2015- Robotics Education Startup Robotix USA, LLC, lead by two sisters, Deepti Suchindran and Aditi Prasad, with a mission to inspire the innovators of tomorrow, announced today it is raising funds via a crowdfunding campaign on Kickstarter to develop coding toys for kids, that makes learning to code fun and easy. The company set out to raise funds on Kickstarter to produce the first batch of their innovative robots, Phiro, that is going to change the educational robotics market. (Phiro on Kickstarter is selected as a Kickstarter 'Staff Pick'. Link to Kickstarter http://kck.st/1SjqW7H)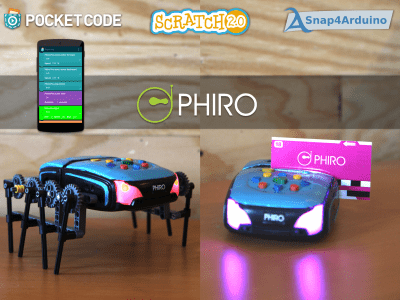 Robotix has many years of experience teaching coding and robotics to several K-12 schools. They have evaluated educational robots from all over the world and found gaps. The robots are usually expensive, use proprietary programming languages and are not so fun for kids. Robotix has created Phiro, an affordable robotics & coding toy that helps kids learn to code and develop computational thinking skills. Kids can learn to code in 5 ways, either without a computer or with open-source programming languages that millions of kids use and love. Phiro is a LEGO® compatible robotics toy that kids can play, code & innovate with to develop 21st century skills.
"In today's technology-driven and rapidly changing world, being computational thinkers to solve problems is an essential skill for children to learn. Computational thinking is a critical 21st century skill that is relevant to all fields from economics, sports, medicine, law, and engineering. Research shows that one of the most effective ways for kids, as young as 4, to learn computational thinking is through coding and robotics"- said Deepti Suchindran, PhD, CEO, Robotix USA.
"With Phiro children get to see the practical application of programmes they have created instantaneously"- said Dr. Wolfgang Slany, Professor of Computer Science & Head of the Institute for Software Technology, Graz University of Technology, Austria.
With Phiro, kids can play music, make a movie, create games, flash lights, detect faces and much more. Coding and playing with Phiro empowers and inspires kids to be creators and innovators of tomorrow. Robotix has created two robots: Phiro Unplugged & Phiro Pro. Both robots come fully assembled and are ready to learn from & play with, right out of the box.
Phiro Unplugged for kids ages 4 to 8. Kids can learn to code & program the robot without a computer! Phiro Unplugged is a great robotic tool to learn Sequential programming and Binary Coding.
Phiro Pro for young people ages 9 to 18. Kids can program Phiro Pro with a computer, tablet or smartphone connected wirelessly via Bluetooth to Scratch 2.0 (MIT, USA), Snap4Arduino (UC Berkeley/Citilab, Spain), Pocket Code mobile apps (Graz University of Technology, Austria). Learners can connect to a community on-line enabling collaboration, sharing & learning. Phiro Pro also has all the capabilities of Phiro Unplugged.
"In one package Phiro does what a whole lot of other systems do individually so it really helps to bring all those together … and make it more cost effective for the classroom"- said Daniel Riles, Technology Integration Specialist, Brookwood School, Boston, USA.
Robotix has launched a Kickstarter campaign to raise funds to manufacture the robots for the global market, which will be ready for Kickstarter supporters in the 2nd quarter of 2016 with special Kickstarter launch prices at $99 (Phiro Unplugged) and $149 (Phiro Pro) during the campaign. Crowdfunding and detailed features of Phiro Unplugged and Phiro Pro can be found here: www.robotixedu.com and on our Twitter at twitter.com/RobotixLS and Facebook at facebook.com/robotixedu