Gemini, a waterdrop-shaped, two-wheel, self-balancing robot with two distinct personalities, will accommodate consumers' leisure needs more than ever before. The Gemini Kickstarter campaign launches on November 10th, 2015.
After the wild success of Makeblock, an educational robot kit series targeting makers and educators, the Shenzhen-based hardware startup Shenzhen Maker Works Technology Co., Ltd expanded its reach and designed the user-friendly smart robot Gemini, which requires no programming knowledge or assembling efforts on users' behalf.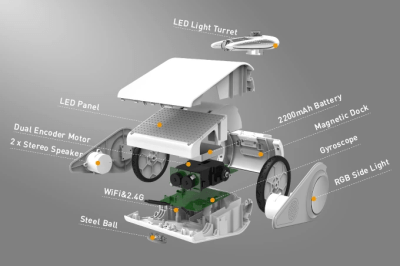 While standing, Gemini moves like a cute puppy, spreading joy via iridescent LED lights and flashing emoticons, and dancing to music at your command. When Gemini is equipped with a turret and crouches down, however, the robot transforms into a fearless warrior who is ready to combat.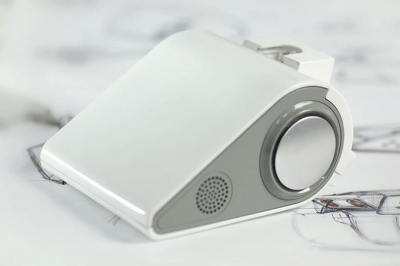 The key to Gemini's accurate signaling and angular actions lies in the self-balancing technology. With one MPU-6050 3-Axis Accelerometer and Gyro working with STM32 MCU, through real-time analysis of related state parameters, Gemini can minimize the displacement both vertically and horizontally, in a timely manner, and control the angular offset with the utmost accuracy, remaining level with ease.
Additional Features:
Stable Movement
The waterdrop-shaped, two-wheel, streamlined structure, empowered by the dual encoder motors with high resolution, ensures Gemini's extraordinary agility and mobility.
Innovative Control Systems
Based on the free iPad app, the robot can perform complex motions and tasks with tap-and-swipe finger movements, tilting techniques (gravity control), and voice control.
Fluent Intercommunication
Together, the 2.4G and Wi-Fi modules offer seamless and timely communication, instantly transmitting and updating all parties' data throughout the game.
High-Sensitivity LED Blue Light
Inheriting the signature Makeblock blue LED lighting, Gemini improves the transmission efficiency and undermines unstable performance from the reflection of the sun, which is often encountered by IR light-enabled devices. Overall, Gemini offers users an enhanced interactive experience.
Starting at USD $99.00, the team provides different bundles for buyers. "Our mission is to make an 'Apple product' for consumer robot kits," says the founder and robot hobbyist Jasen Wang.
See Kickstarter page: https://www.kickstarter.com/projects/1818505613/gemini-entertainment-and-educational-robot-for-kid