After raising $4.5m, led by Imperial Innovations in May 2016, SAM Labs announces the release of a new kit, Curious: an immersive out-of-the-box inventing experience, allowing users to build and program their own cars and games.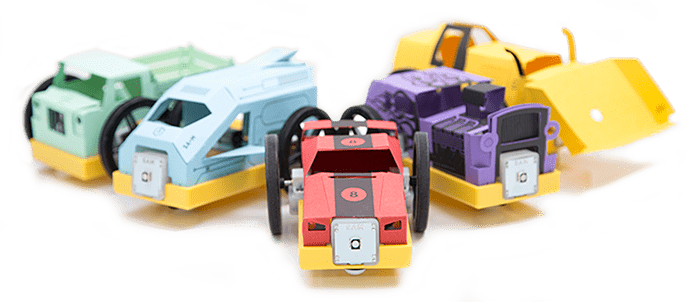 Empowering youngsters worldwide to get hands on with smart tech, SAM Labs makes smart construction kits of clever little blocks and a fun app that gives everyone the power of technology to build awesome inventions. With the Curious building blocks and the SAM Space app, you'll be stretching your imagination to create projects, games, inventions and hacks in no time.
Equipped with five paper-fold car bodies, a car base, and remote control, kids can build and program their own vehicles with SAM, whilst gaining 21st century skills. A step-by-step tutorial booklet, and the informative SAM app, both filled with detailed instructions, will guide you through an array of other smart projects and hacks. The kit even encases an additional booklet with even more offers a diverse range of wireless blocks, that when paired with the app, SAM Space, provides for a fun, experiential, and open-ended learning session.
The kit also comes with its own unique new app: SAM's Curious Cars. Available across iOS and Google Play, the app, made with Unity, encompasses the 'connect the dots' feel of SAM Space, with an added gaming element. Explore challenges and tasks to connect SAM blocks together by playing in both the game and in real life.
The kit will launch for $199 (£149), debuting both in stores, at John Lewis in the United Kingdom and Barnes and Nobles in the United States throughout the month of October, and online on Amazon and on the company's own site, samlabs.com on the 1st October. CURIOUS buyers will also receive a complimentary 20% off code for their next purchases at samlabs.com.
"Curious is the future of SAM, where creativity can be unleashed through an epic immersive experience. When you think about inventing, you think Curious." – Joachim Horn, Founder and CEO