The upgraded and even more feature-rich version of Kickstarter's Most Funded 3D Scanner Ever was launched today
Shenzhen—Following its successful Kickstarter story with the platform's most funded 3D scanner ever, Revopoint is launching today the second generation of the device, offering a new version that supports more functions and an enhanced 3D scanning performance. Catering to the requirements of 3D printing creators, VR/AR model makers, reverse design creators, and high-tech enthusiasts in general, Revopoint POP 2 3D Scanner has been launched at <https://bit.ly/30tcYiJ>.
POP 2 adopts a Binocular and Micro-Structured Light formula for an exceptionally high precision and texture scanning performance. The device uses a proprietary micro projecting chip to ensure that the fast acquired 3D point cloud data is captured with a high accuracy of 10 frame rates, achieving a 0.1mm single-frame accuracy.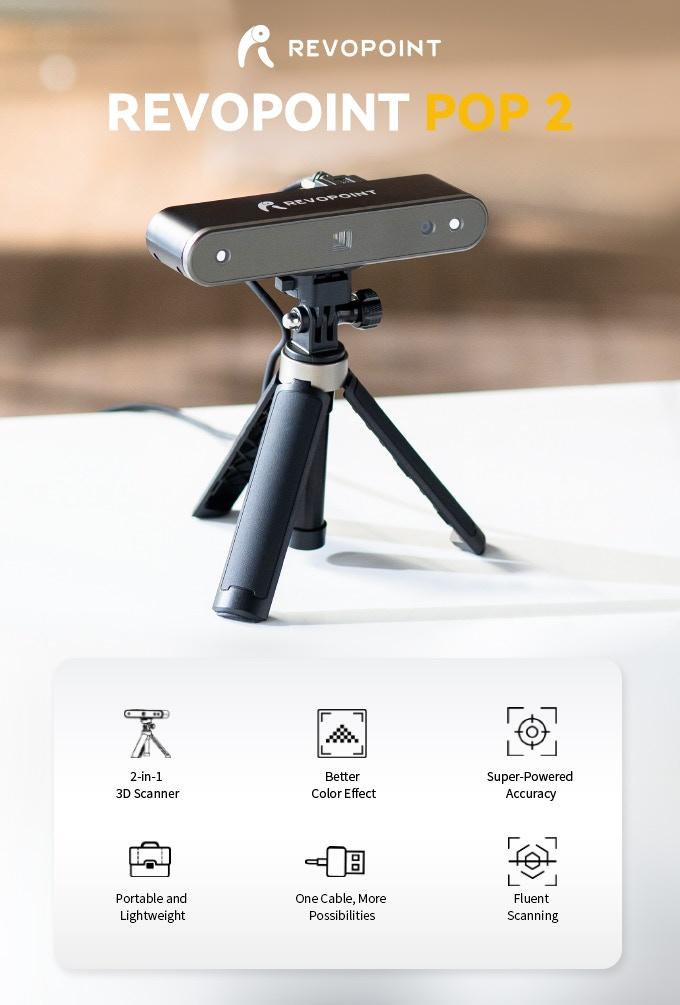 POP 2 has a built-in high-performance 3D calculation chip that supports fast 3D scanning. Its embedded 6Dof Gyroscope also enhances a fluent shape, marker point and color feature point cloud stitching. "And the user can enjoy these amazing features with any ordinary smartphone, tablet, or laptop due to POP 2's intelligent algorithms, which ensure speed and accuracy for the scanner regardless of the computer you use it with," Miss. Vivian, the co-founder of Revopoint, added.
The 3D scanner launched today allows users to explore expanded scanning possibilities, including using it as a handheld scanner for big statues and other big figures outdoors, or to mark points to scan large or featureless objects. POP 2 also innovates by using an invisible eye-friendly infrared light source to project and scan. This makes it possible for users to scan human and animal faces and body parts without producing any discomfort to the scanned subject.
"This is a professional-grade 3D scanner with a wealth of high-end features offered at a consumer-grade price. Everyone can buy it and use it," said Vivian. The versatile device supports high-precision handheld and turntable scanning, featuring impressive accuracy combined with a simplified one-button operation.
Designed for professionals and demanding hobbyists, POP 2 is a compact 3D scanner that can be carried and used anywhere. Its single cable can be used to charge and connect to the user's smartphone, tablet, or laptop.
The scanner's software is also simplified and user-friendly, allowing for the operation to be displayed on its interface. "If there's an error, you can simply roll back, correct it, and keep moving forward with no worries," Vivian assured. The software works with Windows, Mac, Android and iOS, unlike conventional 3D scanner software, which only supports Windows.
The company representative further clarified that the device is especially designed for 3D printing, human body scanning, large-scale sculpture scanning, a plethora of cultural and creative design applications, reverse modeling, different medical applications, and advanced VR/AR and 3D modeling applications.
The Revopoint POP 2 3D Scanner campaign on Kickstarter at <https://bit.ly/30tcYiJ> is seeking to raise $9,975 to fund the large-scale production of the scanner. Backers who support the campaign gain early and discounted access to the device.
About Our Company
Revopoint focuses on the research and development of cutting-edge structured light and 3D imaging core hardware technology. The company's core technical team leverages many years of experience in 3D imaging and artificial intelligence technology research and development, having developed different devices in the field, from chips to complete machines, focusing on 3D cameras and 3D scanner products.