Robohood, world's first robotics & AI-driven art & technology company has integrated both Stable Diffusion and a text generation neural network
FORT LAUDERDALE, FLA. (PRWEB) APRIL 25, 2023
Robohood, an art & technology company specializing in AI-driven solutions for robotics-generated physical art, has integrated two forms of AI technology into their software, Stable Diffusion and ChaptGPT both originally developed and released in 2022.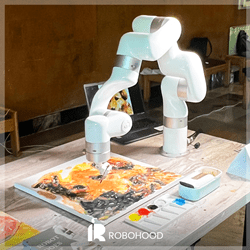 Robohood's integrated Stable Diffusion technology is a deep learning, text-to-image model primarily used to generate detailed images conditioned on text descriptions, though it can also be applied to other tasks such as inpainting, outpainting, and generating image-to-image translations guided by a text prompt. While the integrated ChatGPT technology is a fine-tune approach to transfer learning using both supervised and reinforcement learning techniques with detailed and articulate responses.
Through these newly integrated technologies, users now have two options when creating a painting with Robohood. The first option involves uploading an image from a device, generating a render, and then painting with a robot, which was the conventional method. Alternatively, they can use our AI-generation tool. To use this tool, users can input an image description in the "Generate by text" field or request a topic suggestion in the "Can AI suggest a topic for you?" and the tool will offer suggestions in the interface. Once an idea has been selected, the user can copy and paste it into the image generation field and Robohood technology will generate an image that it can later render onto canvas.
"These newly integrated technologies allow for artists to have multiple options when creating artwork within the Robohood interface," stated Victor Peppi, CEO of Robohood. "Combining art with AI-driven technology is our passion at Robohood and these technologies allow artists to have more freedom and solutions throughout their creative process."
About Robohood
Robohood is an art & technology company specializing in AI-driven solutions for robotics-generated physical art. Robohood's groundbreaking software/hardware solution, a brainchild of a brilliant team of software engineers, robotics experts and artists, turned Robohood into the world's first robotics art company. Producing everything from software to robot-specific painting supplies, Robohood's solution utilizes robotic manipulators to paint with oil and acrylic paints on various surfaces. To learn more about Robohood, visit the website at https://robohood.com/, and follow us on Facebook: https://facebook.com/RobohoodArts, and Instagram: @robohood.inc.