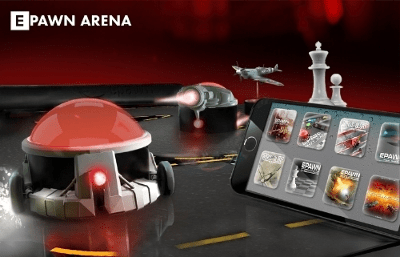 NEW YORK, July 9, 2015 /PRNewswire/ —
The French startup ePawn launches ePawn Arena, a revolutionary board that interfaces with smartphones, tablets or PCs, to allow gamers to use real world game pieces with their online and mobile devices.
To view the Multimedia News Release, please click:
http://www.multivu.com/players/uk/7571451-epawn-launches-gamers-kickstarter/
Leveraging ePawn's patented object-tracking technology, ePawn Arena bridges real and virtual gaming by bringing back the simple thrill of real touch feeling and breathing life into mobile game pieces and smart robot-toys.
Designed to support numerous games, like a game console, ePawn Arena comes with action games where smartphones drive the toys,  a chess game where gamers play online with real game pieces magically moving on their own and strategy games with beautiful and interactive miniatures.
ePawn Arena is ready to get new content and the free Software Development Kit (SDK) makes it easy for game developers and hackers to integrate ePawn Arena into both new and existing games.
"ePawn Arena's unique capabilities take the gaming experience to a whole new level of fun and creativity," said Christophe Duteil, co-founder and CEO of ePawn. "Additionally, we have created an open platform such that anyone can create new content in various domains, such as gaming, robotics, new user interfaces, and so on."
ePawn Arena, the connected board for gamers, is live on Kickstarter at :
https://www.kickstarter.com/projects/1360711106/epawn-arena-the-first-connected-gaming-board