Qviro Revolutionizes Robotics Buying Experience
Qviro, one of the leading robotics platforms, introduces a groundbreaking marketplace, offering unparalleled transparency and choice. Users can effortlessly compare the full robotics market and access a vast selection of 211 cobots.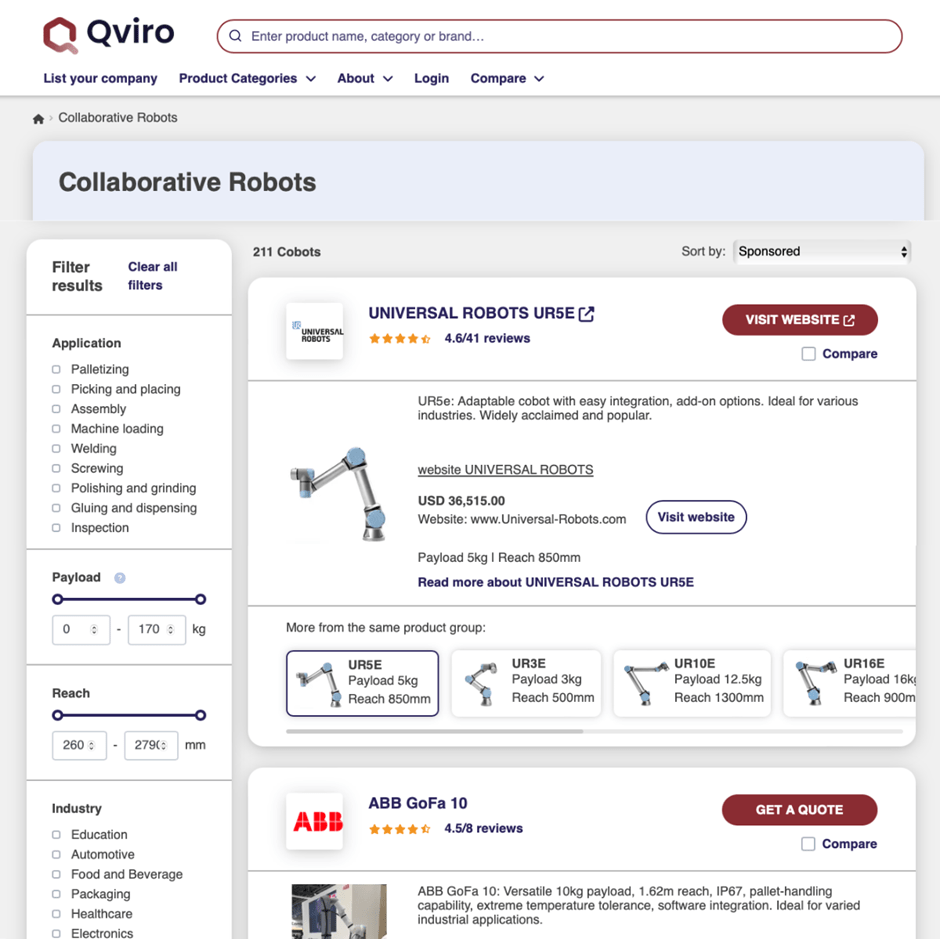 The platform ensures transparent pricing, allowing buyers access to all cobot prices on Qviro. For added assistance, it provides an average cobot price of €27,158. Additionally, Qviro includes 400+ user reviews for informed decisions.
In the cobot category, Universal Robots leads with a 4.6 rating from over 41 user reviews. Their products excel in ease of use and integration, favored by engineers and enthusiasts.
For budget-conscious buyers, Elephant Robotics and Wlkata offer educational robots starting at $599. They provide cost-effective solutions for educational and hobbyist projects. Find Elephant Robotics' products at Elephant Robotics Products and Wlkata's at Wlkata Products.
Sven De Donder, Co-CEO of Qviro, said, "Our user base in Europe and North America is growing exponentially due to unmatched transparency."
Qviro transforms the robotics buying experience, offering an all-in-one solution for enthusiasts and professionals. With diverse options, transparent pricing, and a supportive user community, Qviro meets all your robotics needs.
About Qviro:
Qviro is a Belgium-based startup that is revolutionising the procurement process of industrial technology such as robots and machines through digitization. The company's review platform, Qviro.com, provides factories and engineers with valuable insights and customer feedback to make confident purchasing decisions. At the same time, it offers vendors market intelligence and data to help them better understand their potential customers. As a SaaS platform, Qviro is dedicated to providing exceptional customer experiences and innovative solutions that drive growth and progress in the industry. To learn more about Qviro, visit www.Qviro.com.