AMBER Robotics launches Lucid-1 NOW! The ultralight 7-axis Robotic Arm with AI Intuitive controller, very suitable for Robot's real arm, tease to simplify Robotics Development.

AMBER Robotics, a leading robotics development and innovation company, has launched its latest product, AMBER Lucid-1, a 7-axis portable robotic arm with the AI intuitive mover. The new technology simplifies robotics development and operation and speeds up the creation of films and vlogs by providing a range of features that are easy to use.

"A lightweight robotic arm, should be 3kg or less," said the CEO of AMBER Robotics. "AMBER Robotics unveils the Lucid ONE, a game-changer for humanoid's arm. Weighing only 3.2kg, it can carry up to 1.5kg and boasts a built-in visual recognition interface and 7-axis flexibility. This new technology allows for greater agility and lifelikeness, making the Lucid ONE ideal for manufacturing, healthcare, and service industries. Get ready for a significant impact on the future of robotics."

Need your humanoid robot to have a pair of flexible arms? Don't hesitate, Lucid ONE will be your first choice to achieve it.

Kickstarter launch page, https://www.kickstarter.com/projects/amberobotics/lucid-1-zero-code-and-ai-planning-7-axis-portable-robotic-arm?ref=bordo6

Designed for the industry co-bot, filming, pick & place, spraying, sculpting, laser engraving, 3D printing, etc., AMBER Lucid-1 offers industrial features like dragging to teach, gravity compensation, collision detection, and avoidance. With native trajectory planning algorithms and high reliability, AMBER Lucid ONE eliminates the complex challenges of robot automation and filming.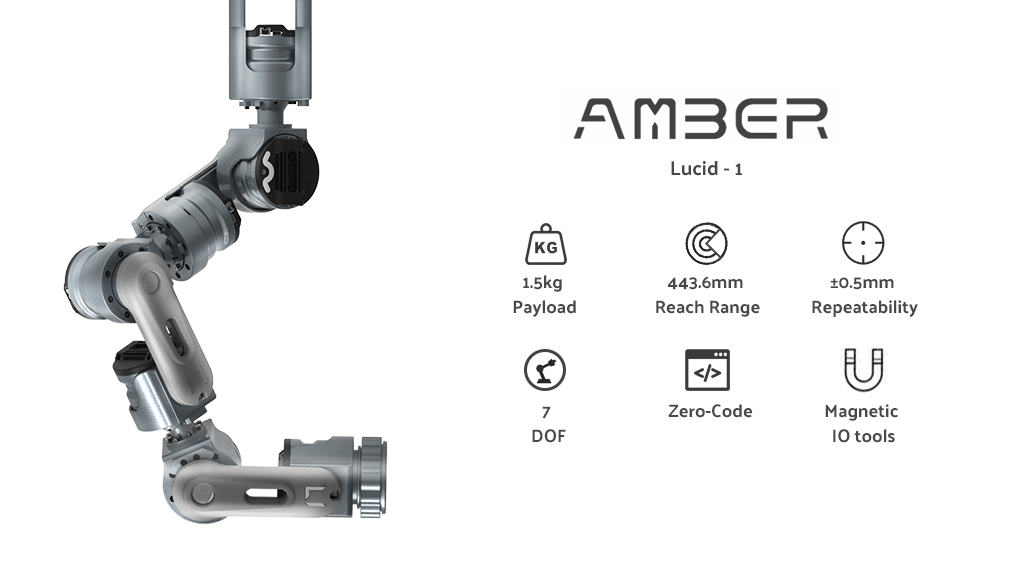 The AMBER Lucid ONE comes with a bunch of external IO devices like the force control gripper, the magnetic connector with a camera, smartphone, sucker, laser pen, and more, making it the perfect choice for any robot project.
In addition, the AMBER Lucid ONE is compatible with ROS2, RViz, Moveit2, and features native trajectory planning and editing tools, a visualized drag-to-program software, AMBER Robot Studio.
For film studios and vloggers, the AMBER Lucid ONE boasts an incredibly efficient feature, "Just a Snap," that can help to automatically plan the right camera robot trajectory and angles in just 10 minutes, saving artists up to 24 hours or more.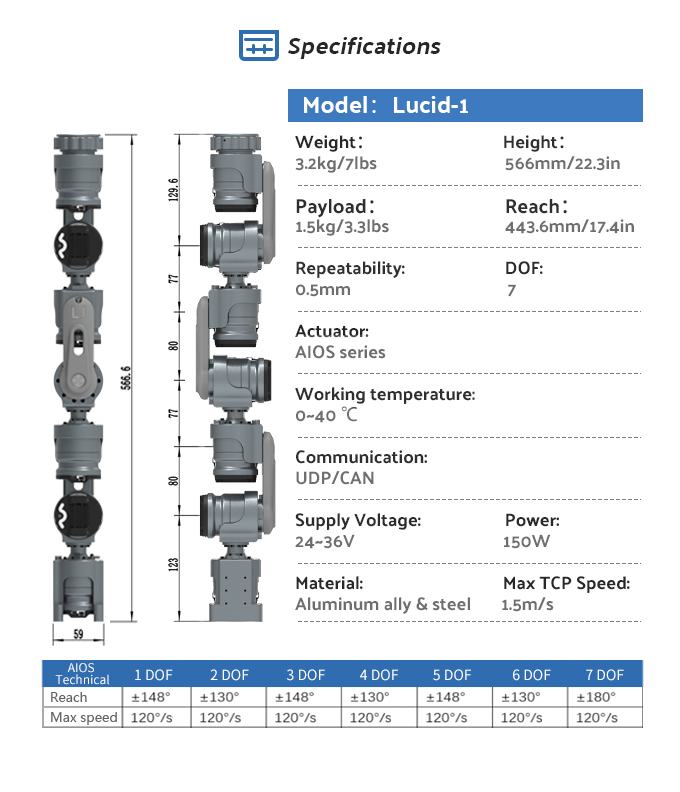 AMBER Robotics is also offering a unique Kickstarter promotion, with more than 50% off during the campaign.
For more information, visit amberobotics.com.
About AMBER Robotics: AMBER Robotics is a leading robotics development and innovation company focused on providing easy-to-use, intuitive solutions for customers in various industries. The company's latest product, AMBER Lucid ONE, is a portable robotic arm with the AI intuitive mover, simplifying robotics development and filming.